Nowadays more and more people are going mobile. Whether to do their business transactions, purchase items, book appointments or even buy a cinema ticket – it's all done on mobile. And why not? It's fast and easy, economical, and you can do it wherever you go. So why not use your smartphone to track your expenses? That's where the DailyCost comes into play.
What does it do?
DailyCost is an app that you can  install on your iPhone, download it via iTunes and use it to track all of your expenses; whatever that is. From transportation, movies tickets, food and drinks, groceries, shopping and even payments for services rendered online. What's even more amazing is that it can also deduct every single transaction you made from your income so you can readily see what's left of it at the end of the week. Perhaps one of the great things about this app is the simplicity its user interface, you can just add or delete an expense with a flick or a touch of a button.
It has elegant display so you will not strain your eyes just looking at numbers and all of that stuff. Hold your iPhone horizontally and you will see some graphs and charts that shows you all of the expenses for the week, making it easier to track your expenses if numbers somewhat gives you the headache.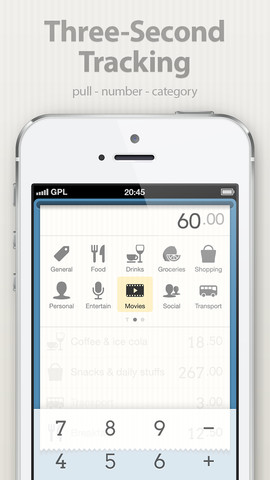 Reliability:
We all know that smartphones, even the iPhone can have its not so good nights where it just freezes and such. But you don't have to worry about losing all of your records of your expenses if such things ever happen to you since you can have everything backed up to iCloud. So whenever you felt like you may have lost some information on your DailyCost after you restarted it, no worries. Everything is backed up on the iCloud ready to be used once again.
This app is perfect for people who want to track all of their expenses on the go. Download DailyCost app for your iPhone now.
Price: $1.99 (Free for Limited Time Period)

Rating: 4/5