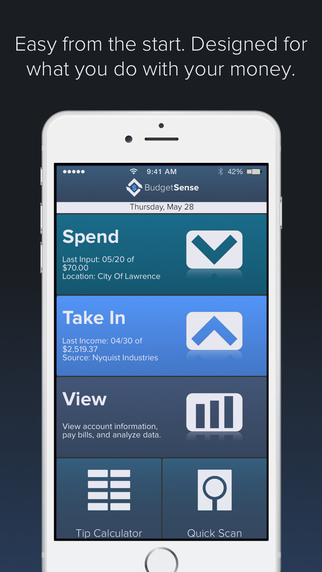 Managing personal finance has always been a daunting task, mainly because of the multitude of factors that need to be taken into consideration. Now, mobile devices can change this for good because they are practically always with their users, no matter where they go or what they do. If a mobile device is combined with an app called Budget Sense, only then can it truly become a financing management powerhouse.
Created by the NYQuist INDustries, the app works on the Apple mobile devices and requires an iOS 8.0 to be installed on an iPhone, iPad, Apple Watch, or iPod touch. On one of these, the app will provide the users with its basic concept of being the complete financial advisor for many issues important to the budget of the same individual or a family. 
Organizing and processing three key factors of any budget produce the same essential insight. These include expenditures, which show where the money is being spent, monetary take-ins that represent the cash influx, and the viewing option for a complete overview of the process. The usability of the app is clearly seen thanks to the fact that a user just need to insert the right values and Budget Sense will calculate everything else. This same app's calculations and projections will then show how to best optimize any of the relevant budget factors like cutting spending or creating a more precise overview of their revenue streams. 
The app features a number of important features that provide it with an enhanced user experience. First of all, it features a simple but effective visual representation of the budget, meaning all spending and income. Through the use of a very readable font, but also the use of many graphic solutions like charts and diagrams, the visual features allow the users to get a full grip of their financial state. Features like the budget summary mode will provide precise results when it comes to how much a person can spend. The same feature can be broken down into different time periods, including days, weeks, or months.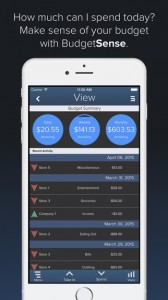 Its features are even more prominent on the Apple Watch devices, where it settles all of them to a person's wrist. With this device, users can utilize its power even more freely and calculate their budgets while on the subway or during a treadmill jog.
All these features are located in the Budget Sense Free version. With a premium version, users can receive even more options and features, like the syncing of the iCloud accounts, scanning of receipts and a calculator for making tips. The last two are especially meaningful in social occasions like restaurant dinners and bar visits where a person can simply solve issues and document their financial dealings.
But, the thing, which truly separates this app from its competitors, is the fact that it provides heavy-duty financial power in a really understandable visual package. With it, users will never get confused or overwhelmed by the presented data. Instead, they will get it all that they need in an exceedingly clear and readable way.
Having a Budget Sense app on an iPhone or some other Apple device is not just a way of calculating spending and income. In reality, the app will allow people to save money in a substantial manner, which an incredible opportunity for all its users.
Price: Free
Rating: 4.5/5