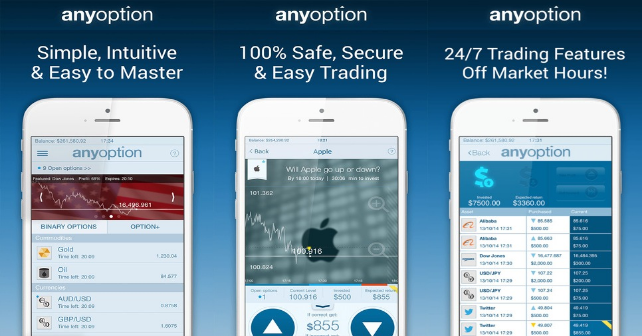 In the last couple of years, it became exceedingly apparent that trading binary options can be a very lucrative endeavor. Now, using a special finance and trading app called Binary Options Trading – AnyOption, the same process can be taken with a trader wherever he or she goes. Using a range of different option, the same app is a compelling package of tool that every trader, from complete novices to industry veterans, can put to great use.
The basic concept of the app represents a hub for all the binary option trading processes, including Forex, stocks, and commodities, while supplying the users with the tools, information, and access needed for this. The app achieves this by providing any individual user with their account manager that is completely focused on their support. This multilingual support lasts 24 hours a day, seven days a week, where the manager is ready to help with any investment, suggestion or assistance. Visually, everything about the app is set up to aid the users, providing clear menus, readable data sheet pages and many more advantages for a busy trader anywhere in the world.
AnyOption app is full of features, all of which can help in making successful trades on the binary options. The feature of underlying assets provides more than 200 possibilities for trading, making this alone worth the time for any trader. Using several streams of data, the app will provide users with real-time performance of all relevant possibilities for trading while the syncing of the AnyOption account on the standard browser only further enhances this. The data streams also cover market trends and possibilities when it comes to Trade Option+, One Touch and Binary 0-100, just to name a few. The safety and security features provide a completely protected environment for great trading deals. Finally, the app provides signals for binary options trading, which are alone able to provide a person with a serious trading success.
The thing, which clearly sets this app apart from any competitors, is the fact that it is a regulated by none other than the CYSEC (Cyprus Securities and Exchange Commission). A governing body like this one makes sure that all actions inside of the app are completely in regulation with the EU region and many other relevant jurisdictions. These certifications make it the only validated app of this type on the market.
With a very powerful combination of features, a full human-based support, trading possibilities and a very clear and compact user interface, Binary Options Trading — AnyOption is a finance tool that no one should miss out on. With it on a mobile device, the binary options, and any other relevant trading possibilities can be completed with ease and effectiveness like never before.
Price: Free