I own a small architectural firm and have a small, but dedicated team of experts who help me in running the show. Most of the time I happen to be out of town and away from my PC and laptop, hence accessing files is always a difficulty. I was looking for an app that will help me manage some basic office work on my iPhone when I am out of the office. A friend of mine suggested Documents Free by Savy Soda. The app has been designed to help you edit and manage spreadsheets and text files on your iPhone. 
Documents Free came highly recommended as it's ranked as the #1 overall business app on iTunes, and is being used in over 40 countries. The app can be used to synchronize files to your Dropbox, Box, Google Drive, and Microsoft OneDrive accounts, allowing you to open and refer to documents from anywhere, on any PC or Mac. The files open in the app using Open Office, Numbers, Microsoft Word and Excel, and other major office suites 
Documents Free comes with pretty good features such as a portrait and landscape mode which makes it easy to read and edit documents on the go, Google upload and download, a spreadsheet that supports formatting, resizing, formulas, and complete support for .txt and .csv files.  The app can be used both online and offline, helping you get work done no matter where you are. I use it while waiting at the airport or while traveling by train.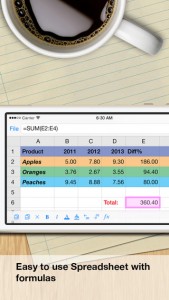 However, the app does have a few drawbacks. Documents Free provides limited support for docx, .xls, .xlsx files from Google Docs. Its editing features need to be improved; I would like to be able to edit documents and comment on them, add bullet points, make use of clear formatting, change case, and perform track changing.
As an architect who needs to access documents on a regular basis, I find Documents Free to be a handy document manager.  
Price: Free
Rating: 4.5/5