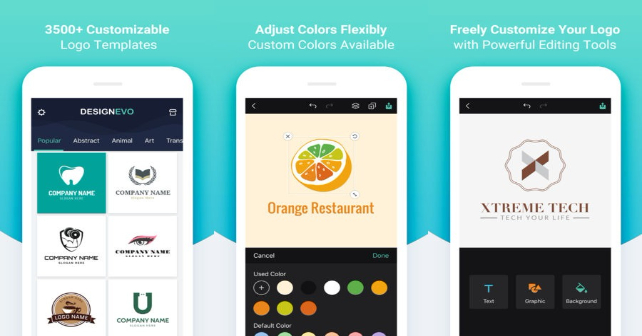 The Best Applications to Make Logos on Your Phone
Currently, there are different ways to create logos for brands, websites or products. You can find a large number of interesting apps to create logos in a practical way from mobile devices. Below is a collection of quality applications to design logos, as well as different tips to create them efficiently.
A little tip before designing a logo
When creating a striking, quality logo that represents your brand or company, some guidelines should be taken into account. The logo is the first thing you see of a company and therefore can make the difference between a business triumph or go unnoticed. First of all, a logo has to transmit the values of the company. You have to show the public or target what your company is, for what you want to be recognized, and what it means.
Also, a logo has to be simple, like signatures. The public must be able to describe it and be able to remember it and of course, a winning logo must be unique, different and special, so do not even think about plagiarizing another idea. Find a point that differentiates you: an idea, a value, etc. and develops your logo from it. Of course, it will also have to be versatile and adapt to different sizes and formats without losing any quality, nor with the impressions.
Now take a look at following mobile apps to make beautiful logos.
DesignEvo – Logo Maker
This logo design application for mobile offers high quality and advanced options, but at the same time, it is very easy to use. Even if you don't have any previous design skills, you will be able to create logos for your company or website in minutes. It allows you to choose between 3500+ well-designed templates, different colors, shapes and colors. And you can also download high-resolution logo files for digital or print use.
Design unique logos 
in the palm of your hand with DesignEvo now.
InstaLogo Logo Creator
This app is especially interesting because it allows you to create logos very quickly. In addition to being able to make logos from any Apple device, you can also make posters and even invitation cards immediately. When you create the logo you can send it by mail and you can even upload it to Dropbox, so it's definitely a great option.
InstaLogo is available on iOS as well as Android devices.
Logo Studio Designer
Logo Studio Designer includes a very simple interface and different options to save photos in the library. It allows you to edit the logos that have already been made, in case you want to modify them. You can choose from over 200 royalty-free images and this app also has support for retina displays.
Logo Designer for iOS
It is also one of the best iOS applications for logo design. You can create professional logos for your company or organization without having experience in designing or editing images. You can choose between different types of fonts for text, set colors, sizes, apply gradients, and background colors. Not only that, all the illustrations are free of copyright and you can even import photos from internal storage. You have options to resize, align objects, modify opacity, add shadows, reorder layers and much more.
What do you think of this list? Which app to create logos has caught your attention but in terms of quality: which offers more? We would like to know your opinions.
Price: $ Free