While we hold a number of friends, there are more to come in the long haul. May it be business, personal or something else, contact info would come in handy. Business cards make a great deal, however, there are certain occasions where we get them misplaced, leading us to frustrations whenever we have to be in contact with someone rather important. Good thing Contact Snapper has come to the picture.
Say No More To Physical Business Cards:
If you own an iPhone, great! The Contact Snapper will definitely work on your favor. Since business cards are hard to keep, it's better to make a permanent copy of them the soonest they are acquired. That's what Contact Snapper does! Just run the app, point your phone's camera on the business card and then voila! all will be put in place. It's the easiest way to fill your address book with contacts and aside from that, it can derive contacts straight from a different app like Mail and Safari.
The Secret Behind the App:
It would come to no secret anymore after this line — it's the Optical Character Recognition (OCR) technology! Through this contrivance, your phone is able to follow algorithms through the app and smartly copy contact info from images and alike.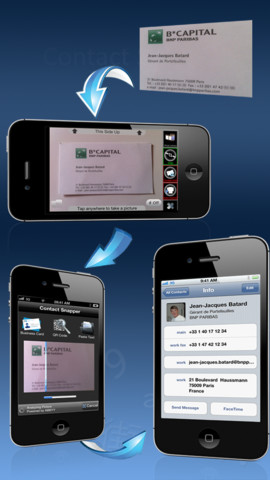 Works for 200 Different Countries!
Yes, you read that right. This app is capable of detecting contact info no matter what linguistics are being depicted. The best part is that it covers all Asian languages, which is awesome, right?
Try It For Free:
If you are hesitant to purchase the app, don't worry; you can try it for free first. After being able to save 3 contacts, you have the option to carry on with the purchase without any incurring fees thereafter. So basically, it's a one time pay to use the app till your iPhone lasts! 
Hope you find this contact scanner app well like I do. Enjoy!
Price: Free
Rating: 4/5