Nielsen, the company that studies consumers and produces the Nielsen ratings, recently did a study on smartphones.rel="nofollow> The study shows that Android's popularity is gaining among the new customers when compared to Apple and Blackberry RIM. The data seems to be collected over six months and the popularity of Android among those who recently bought themselves a smartphone is a staggering 40%, when compared to Apple, which comes in second at 26.9% and Blackberry at 19.2%.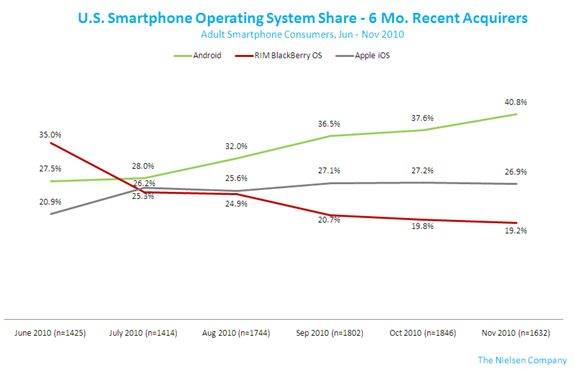 rel="nofollow>
So does this mean Apple's no lucrative, that it used to be with the recent surge in Android based OS smartphones coming up in the market with support from companies like Motorola, HTC, Samsung and more. Not so fast, as the overall consumer market share belongs to our beloved Apple with 28.6% when compared to Android, 25.8%, and RIM, 26.1%.
But, I have to admit that the overall stats are not so overwhelming for Apple considering both RIM and Android not far behind.
rel="nofollow>
The stats raise a lot of questions and top of all of it would be, Does Apple no longer hold the advantage it used to when it comes to smartphones?
Let me know your thoughts in the comments. Personally, yes I do feel that Apple is no longer the only player but its quite hard to beat them when it comes to their technology and with rumors of the iPad2 to be launched pretty soon and the next version of iPhone following up, it remains to be seen what's next?
News and Image sources, Nielsen Blog rel="nofollow>.