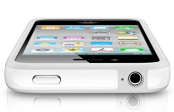 Apple has now released a universal bumper for both Verizon's CDMA iPhone and AT&T's GSM iPhone.
But the key difference between the previous model and this one is this bumper has some extra space for the vibrate switch of the Verizon iPhone.
You can find the key differences clearly in the video below.
This below image was found in Apple's online store proves it.

rel="nofollow>
This is another surprise that Apple has given us this year.