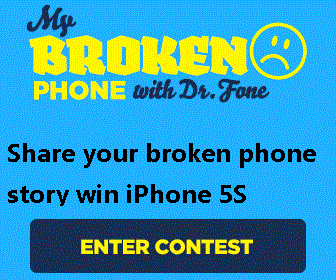 What to do if you broken your phone with Wondershare broken phone contest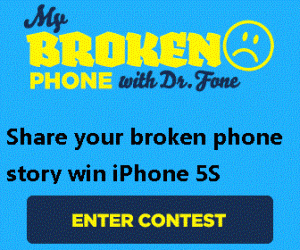 One report showed that about one quarter of iPhone users have broken their screen and the number of broken phones should be bigger than that. If you are one of them, you may want to sell the broken phone regardless of a piece of junk or partially broken iPhone. And then you need to buy a new phone. Wondershare organized a contest to win iPhone 5S and what you need to do is just tell people your broken phone story HERE. 
How to enter the contest:
1. Log in with your Facebook or Twitter account on the right corner of the contest page.
2. Click "Enter" the contest and then enter your email address and your location.
3. Submit your story with text, meme or video.
Note: Don't forget to share with your friends and ask them to share and view your broken phone story. Don't forget to come back to vote your story on May 26 – June 8, 2014.
Prizes of the contest:
* Video Grand Prize: iPhone 5S + more
* Meme Grand Prize: Mophie Battery Pack + more
* Story Grand Prize: Bose Earbuds + more
And then let's talk about what to do if you broken your iPhone:
1. Confirm if the iPhone is still under warranty by checking the purchase date of the iPhone.
2. Confirm if you have purchased AppleCare for iPhone.
3. Apple Genius Bar for help.
4. Confirm if the iPhone has any iPhone insurance.
5. Local phone repair store.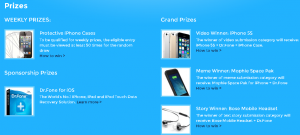 And if you don't want to repair it and plan to sell your iPhone, you may have to find somewhere to sell
1. Craigslist
2. eBay
3. Amazon
4. Bestbuy
5. NextWorth
6. Gazelle
7. Apple Store
8. Walmart
9. GameStop
10. RadioShack
And if you want to check which one is better, find more HERE!