MobileCrunch reports, AT&T has released an announcement on upgrade eligibility for next iPhone rel="nofollow"> and the date for upgrade eligibility has been changed from November 21st to June 21st. On their blog, they received a report from a reader saying
Not sure if anyone [..] has noticed this same thing, but my Upgrade Eligibility date on my AT&T account switched from 11/21 to 6/21 in the last day or so. I bought a 3GS on launch day last year, and my upgrade date read 11/21 since then. A few other folks in my office have noticed the same changes happening to their accounts as well.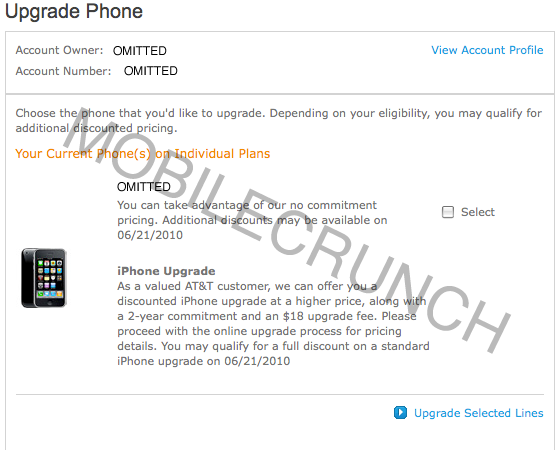 rel="nofollow">
Actually many haven't got this email from AT&T and I think they may roll the announcement in some time to all its iPhone users. But usually Apple rolls out their new product on Fridays, as people work less on Fridays and the next two days are holidays. So will the launch date be on Monday? Well I don't think so, Apple launched previous two versions of iPhone on Friday.
On the other side I am confused with Verizon, as they were working on an ad campaign for the upcoming iPhone. Some rumors claim Landor Associates are working on the iPhone ad campaign for Verizon. This rumor proves Verizon launch of iPhone coming this summer. At this point of time, nothing is clear about iPhone launch and who is going to be the iPhone carrier, but if we wait till June 7th we can hear some good news from Apple at WWDC, where they usually announce every other iPhone and as we mentioned earlier, WWDC starts this June 7th.
Source via MobileCrunch rel="nofollow">