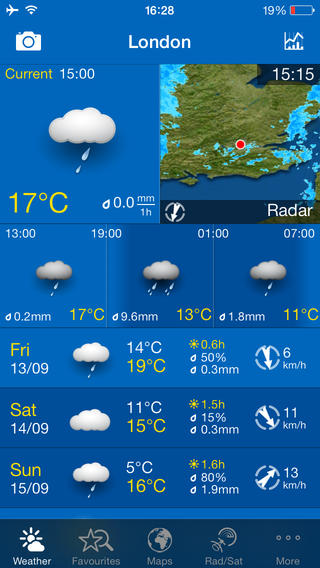 You don't have to be a pilot or a captain to own a device that accurately reads and predicts the weather. As a matter of fact, all of us need some kind of information about how the weather is likely to change. So even if you're going for a journey, you know exactly whether or not to carry a sweater. You'll know whether or not to carry an umbrella with you.
It's really essential to understand mother- nature just in case she decides to show her negative side. What are we talking about? We are talking about an iPhone app that's capable of alerting you on all weather updates irrespective of your location. We are talking about a super-powerful app, designed by MeteoGroup, Europe's most respected private weather forecasting company. That's certainly an app you must install, and the best thing about it is that it's compatible with the latest iPhone 5.
This app is one of its kind, because we analyzed the features and we were actually overwhelmed at its capability. Here are the features we discovered:
One week forecasting comes with the following packages
(a) 3-Hourly Intervals:
You might be wondering what that's all about. Okay, that's a unique feature on this iPhone app that updates you on weather forecast matters after every 3 hours interval. The weather keeps changing, and that means you'll need accurate information after every 3 hours. That's the recommended time frame in which you should receive these updates anyway.
(b) Dynamic Short-Term Forecast:
You don't have to concentrate on long-term weather forecast if you don't need that information. Moving from town A to town B which is just 20 miles doesn't require one month weather forecast information. So this app only lets you use what you need.
(c) Weather Reports for over 2 Million Locations across the Globe:
That's really shocking to discover that this app lets your iPhone read the weather condition for over 2 million places across the world. Such a number has never been achieved by weather forecast apps since app designers begun making weather forecast apps.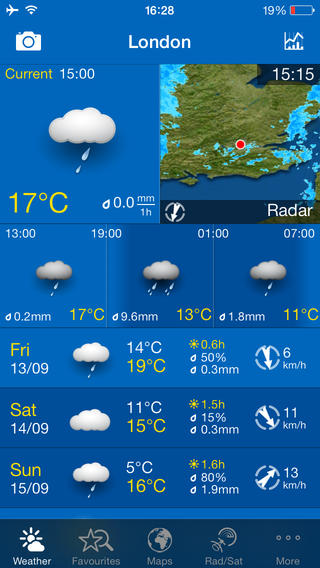 (d) Temperature is in Celsius and Fahrenheit/Air Pressure/Precipitation and Humidity:
What that means is you'll be able to read how hot or cool the temperature of the surrounding place is, and the best thing is that you are getting those readings in units relevant to your country of residence. This iOS apps also measures humidity and whatever else you may feel.
(e) Worldwide Alert on Extreme Weather Condition:
That's when you'll know that your iPhone is now behaving like a devices found on the dashboard of a large ship heading directly towards a heavy storm. But this time round, you'll be more accurate to avoid them storm because your iPhone will have warned you long time ago.
(f) Sunrise and Sunset Times:
This is one feature you can't fail to miss. If you frequently travel across the world, you'll certainly need this app on your iPhone because it lets you know when the sun rises and when it sets. This information is very useful, especially when visiting a foreign country.
(g) View Forecast in a Reader Friendly Outlay:
This app presents information on a graph which is easy to read. You won't get confused by what you see on the screen.
If you're going to subscribe to premium, then you must prepare for juicier features with this iOS app. This is what premium members enjoy:
* Stunningly high resolution weather maps, like that which you see on LED screens
* Interactive on-screen features such as icon and city temperatures
* You will gain access to Meteoearth, a cool 3D map viewing platform exclusively available at MeteoGroup and not anywhere else.
The Global Satellite and Animated Radar:
You can perfectly read images both in the US and in Europe. The designers have expanded the coverage of this app and now they have Austria in their radar. And of course you can zoom in to find more details about a particular city.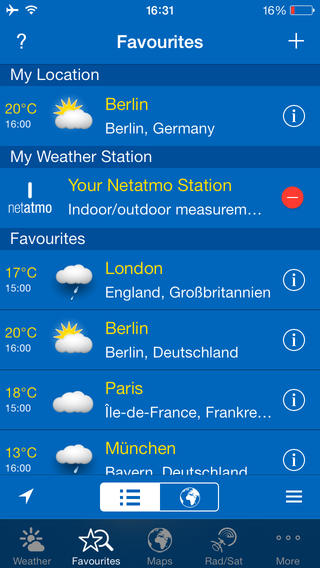 What else?
You can connect to your local weather station using Netatmo. The beauty of Netatmo is that you can have all the weather stations you are interested in under one roof, and that's in your Netatmo account. Then you can receive information on what's going on in real time.
* You can also share the information on facebook or twitter. It's accurate, so you don't have to worry about sharing wrong information with your friends.
* Save unlimited number of locations you love to visit for easy access whenever you want some weather updates concerning those places, and we are talking of more than 800,000 places of interest.
* The ''My Location'' feature will automatically add your current location onto your list of favorite locations.
* The most interesting part of it is that you'll gain access to a map of water temperatures in the continent of Europe.
* And of course you'll stay upbeat with the latest weather news and reports. If you love the landscape format, you can use the tilt screen feature as well.
* And all this information is available in 13 different European languages. No bogus adverts on this app.
In addition to the above features, the premium version will shorten the update interval to 1 hour, and you also get a 2 week weather forecast, instead of 1 week.
The high resolution maps do more than what you will request them. Find the difference between rain, precipitation, freezing and so on. Most weather forecast apps don't really distinguish this information, making it very difficult to accurately read the weather.
You're going to get live updates on sky weather for over 900 resorts in over 17 countries. Remarkably, you can also know the quality of snow in these areas, the number of pistes currently active, and so much more.
Finally, you have 40 images coming both from the radar and the satellite. There are a lot of things we can say about this app and how it's unique. So it would only be ideal that we stop at that to raise your curiosity.
Note:
Once you acquire this app, it's recommended that you create your own account for two reasons.
* Firstly, you can save your subscription and continue using the premium service in case you lose your device.
* Secondly, you can always use your premium account using a different iOS device.
Conclusion:
It's the best weather forecast for iPhone we've seen so far. If you own an iOS device, weather pro iPhone app will certainly amaze you. The original price of the app is £1.99 and amazingly, this app is now available at the discount price of £0.99 from November 08, 2013 to November 10, 2013.
 
Price: £0.99
Rating: 4/5