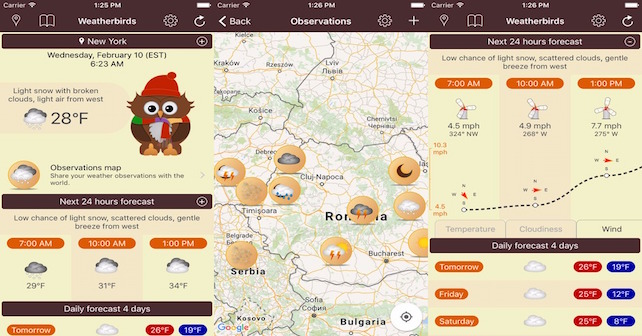 There may already be a lot of ways for you to know the weather in your current location, but none could be more adorable and interactive than Weatherbirds. Aptly named, in this app, owls basically give you an accurate weather prediction in your local area as well as other places in the world.
The app automatically detects the current area where you are in and will also promptly tell you the weather condition in it. One highly entertaining feature is the propensity of the owl forecasters' change of clothing based on the current weather of the place. For instance, if it were particularly snowy, then the owl would don winter clothing like scarves and bonnets. Take note that the app doesn't only take into account your current location, as you can opt to type any city or location in the world in it, and it will tell you the weather forecast in it as well.
Forecasts can be made up to 4 days into the future, and much of the way in which it's presented is animated, coupled by brief informative descriptions and explanation of each prediction. The graphs that the app shows depict the change in the position of the sun, da time length, as well as weather change predictions that are bound to take place in the future. The app also goes so far as to offer users a weather handbook for those who are keen to learn more about the weather and the nature of various weather conditions. How you want the information to be presented to you can be fully changed in the app's settings.
Much of the interactive value of the app also lies in its allowing users to share their weather observations. If you look at the built—in map, for instance, you will immediately be greeted by weather observations made by other Weatherbirds users. You can even take photos of your surroundings to highlight the weather it's currently experiencing and share it with other users. This social-network-esque factor of this app is definitely a sure win for most people nowadays. As a final note, much like a social network, you can also customize your Weatherbirds profile by adding tidbits of personal information as well as set a profile picture.
Weatherbirds's theme as a whole is what makes it stand out from other numerous weather apps available in the iOS already. There is also its highly detailed weather map and the ability to share your owl's weather forecasts with other users of the app. It's also more light and bubbly compared to serious and trite weather apps out there. This is why if you really want a more interactive and intuitive app to tell the weather for you and goes all the way in informing you about weather conditions and forecasting as a whole, then don't hesitate to go for Weatherbirds.
Price: Free