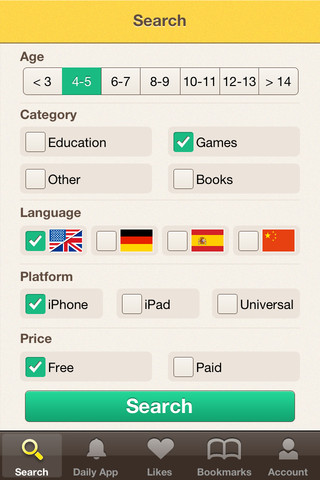 With millions of apps in the app store and the list keeps growing in a daily basis, it's always hard to search and find the apps for our kids. But not anymore, Goodbeans GmbH has developed a universal app – WeWantApps which suggest apps for parents who has children between the age group of 3-14 years. Just download and install this wonderful free app in your device and can get recommendations of some great apps which you might have to spend a lots of time searching for them in the app store.
WeWantApps help the parents to have an idea about what kind of apps can be downloaded in your iPhone/iPad for their children. The app mostly covers the education, games and books categories but it also provides attention to some apps that best fits to your child's needs from other categories too.
The interface of the app is simple to use. To get suggestions, all you need to do is to select age of your children, category, language, platform (either iPhone only or iPad only or universal) and price (Includes both free and paid). Then just hit search you could see apps recommended to your children.
The app is designed for kids from 3-14 age group which has been further classified in to14 which makes it simple to search for apps as per the age. You can select multiple entries at a time (i.e.) you could select more than one option to have better results. If you feel that any of the app can be suggested to your child, just tap it to read the description, and view the screen shots of the app in an iTunes store like interface.
Adding to this, another cool feature about the app is that it provides you with daily app recommendations. It includes handpicked apps by the experts of We Want Apps team which can be suggested to children. You can also bookmark your favorite apps and it is possible to share favorite apps to all your friends via Facebook, Twitter, or you can even share the app via SMS or email.
With WeWantApps, get recommended apps for your child according to their age and turn your device a safe place to hang out with.
Pros:
Simple Interface.
Daily app recommendations.
Easy to use search
Cons:
I would say there are no cons for this simple and great app, but the developer should consider adding more languages in the search section as people started using localized version of the apps.
You can download WeWantApps for free today and get the best apps for your kids with ease, and we certainly recommend it!
Price: Free
Rating: 4/5