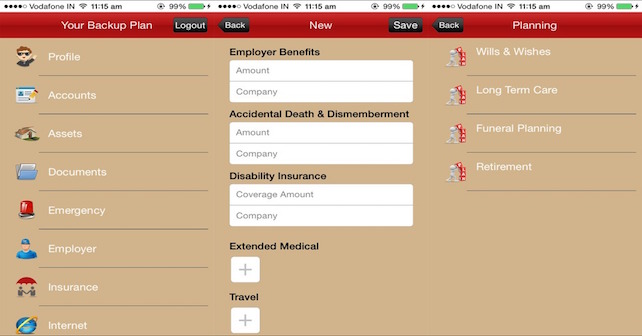 Tragedies often struck completely out of the blue and devastate not only the affected individuals but also their families. In the US alone, the government is in the possession of $23 billion of unclaimed funds left after events like this. In the uncertain world of today, it seems that the chances of this scenario are becoming greater with each passing day, but thanks to an innovative app called YourBackUpPlan, there is a way of making sure that a person's family is taken care of.
The app represents a place where a person's important data can be stored and recovered in an event of a tragedy. As a backup system for essential information, the app is a small piece of mind for anyone who wants to be sure that their family will get back on their feet even if they are taken away from them. More impressively, the app provides this possibility using a simple iPhone.
The app functions in an intricate but very usable way. Inside of it, the person's record of all important elements of their life is stored. These include financial statements, loans, savings, property possessions records, but also computer passwords, account names, important numbers and all other relevant data that could mean a world of difference if a person becomes injured, sick or passes away. All of this is stored away in the user's iPhone using this backup app.
The functionality levels of the app are only comparable to its features. First of all, it includes the feature of a finely-tuned user interface where all options are set in the form of categories like profile, accounts, assets, documents and much more. Because of the boosted usability feature, every one of these can be filled out quickly and effortlessly. The planning feature of YourBackUpP|an offers an option of providing the person after their passing with instructions like burial and funeral planning, long—term care and other equally important elements. The feature of additional segments means that the users can add as many categories and entries as they like.
While all of this is great and effective, it is the app's levels of protection that make it stand out from its competitors. The app is very readable and user-friendly, but it still values the security of its data as paramount. This means that no entry into the app can be compromised by a malicious attack or some other action. Like the entire app, its security is designed to make sure the user remains safe in any scenario.
Thanks to an innovative idea that has a lot of real-life value, this app presents a resolution to an issue many people fear might occur. By being prepared for any form of tragedy, the app could be the most important one a person ever installed on their iPhone.
Price: $6.99