uBooks xl from Nix Solutions has come out with a great idea of enhancing reading experience on iPhone. uBooks xl is an ebook reader comprised of an ebook shelf where we can store our ebooks. Let me tell you something very clear, uBooks xl is not like an app that contains free books that are downloaded from the Internet, rather its an app that gives a platform to read the ebooks.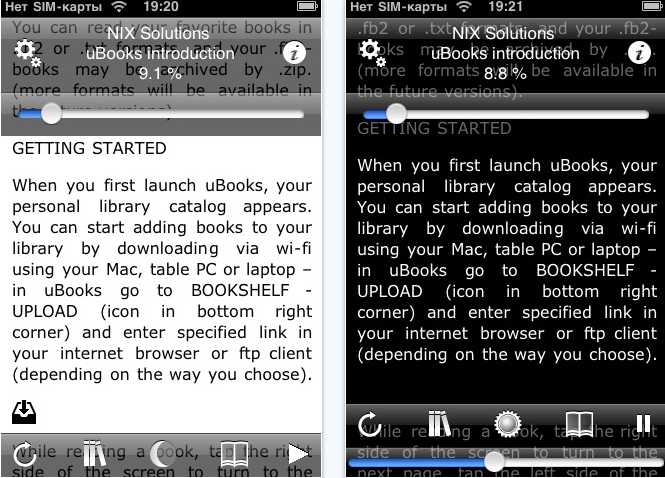 rel="nofollow>
How to add books
Connect your iPhone or iPod Touch to your PC or Mac and open iTunes and go to File Sharing option in App tab of your device. Then select uBooks in the File Sharing and select whatever books that you want to upload. Since this process is applicable only for iPhones or iPod Touch that runs on  iOS 4.0 or higher, many won't get this feature. If your iDevice runs on iOS 3x then you need to upload files via WiFi using FTP or browser.
If you still got confused with how to upload ebooks, then there is another simple way. Create an account with 4shared and upload your files from PC to your 4shared account. Now with 4shared option in the app, you can import the books in the app. Even through the upload process has many options, still it lacks in simplicity. Hope the developer looks take this into consideration and implement some easy way to add books.
User Interface
uBooks xl has a very nice interface with so much of features within the place while reading the book.The best thing I noticed about uBooks xl was the clean user interface, you won't find anything cramped while reading books and you can always read books in full screen. The books option appears only when we tap on the screen. When tapped on the screen, the app brings a top bar and a bottom bar with features like Search, App settings, Scroll based page change feature, Bookshelf, Sun/Moon mode, Open book and play button along with a speed meter.
Since there are two many features, let me discuss something essential in points.
Search – A very useful function to search for any particular word in the ebook.

Enable/Disable auto rotate – I should say, I really needed this feature while I accidentally turn my hands horizontally. This function was very help to read with a comfortable orientation.
Bookshelf – Bookshelf list out all the available books that are imported into the app. The bookshelf displays has categories to easy find any book based on Names, Authors and Genres. Additionally you also get a book search and upload feature to upload new books into the app.
Day/Night mode – You can switch between white and dark background using this features. Since people have different choices, this features helps in making reading so pleasant.
Open Book – This helps in navigating with the book's contents page and you can also bookmark any page of the ebook and add an comment to it.
Settings – Settings has the basic instructions to customize the app fonts, colors, animation and the language. Since the app support only two language, you can select anything between English and Russian.
So with good functions and neat user interface, uBooks xl does a perfect job as an ebook reader. The app I have reviewed here is the paid version uBooks xl, however you can get the free version of uBooks with limited features in the iTunes store.
Cost: Free and $4.99
Rating: 4/5

rel="nofollow>