Trillian is one of the oldest messenger application that was launched in 2000. Ever since the launch of iPhone, Trillian was excepted to hit the iPhone medium, but it got delayed due to some reason and finally made its presence on 2009. The last month the app has got an update to function even better than earlier. Trillian is one of the few apps that support multiple chat clients such as Facebook Chat, Yahoo Messenger, AIM, ICQ, Google Talk and Live Messenger.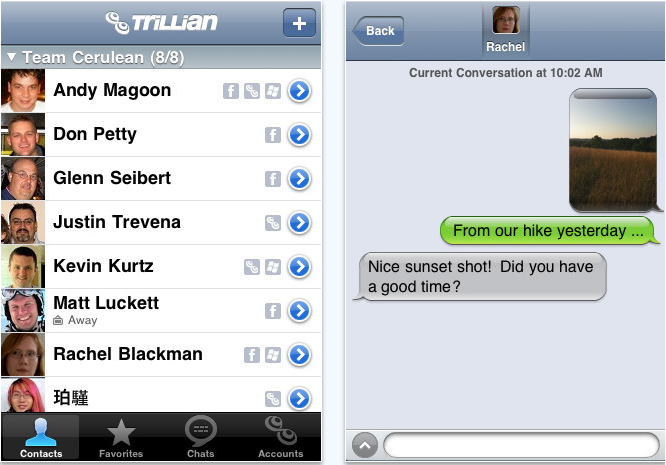 rel="nofollow>
Compared to other iPhone messenger app, Trillian works brilliant by allowing multiple sign in to multiple account with a single access. So ultimately you don't need to login for different services separately to have a chat. But getting to use the service, you need to get a Trillian account, which is free to create.
Interface
I don't think its necessary to talk much about the interface, as we have seen the Trillian's simple interface. But through, let me share some bits about its iPhone interface. Trillian has a very cool interface and simple interface with bunch of features loaded such as collapsed and expandable, option to change the avatar, edit names and a cool search. The message interface is so clean and simple, along with an awesome feature to switch between different chat tabs and a chatting notification support.
The app does works in the background, so even if you close the app it continues to work in the background even with the older generation iPhone. What about sending MMS? Well, you can do that too here. With all the features Trillian looks stable comparatively efficient than other messenger apps.
Cost: $4.99
Rating: 4/5

rel="nofollow>