When I bought a new iPhone, I was not really impressed with one particular application called Notes. It is so simple and it has only few options. I still think, it doesn't suit the wonderful device called iPhone. So I began looking for other options. I recently found Touch Notes and I think it is a real good alternative for Notes. Let me give you the review for this app today.
Touch Notes is an user friendly note making app. It offers three ways to make notes –
Keyboard Notes – Users can type notes using the iPhone keyboard.
Finger Notes – It helps in writing notes in users' own handwriting. They can change the color and size of the pen stroke.
Audio Notes – With it one can make notes with their voice.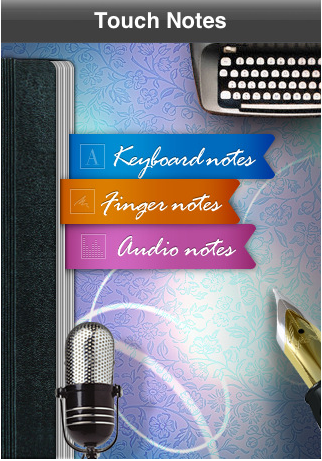 rel="nofollow>
Users can make notes under five categories – Business, Idea, Study, Shopping and Home. I was impressed with Keyboard Notes option and began using it regularly for quite some time now. I tell you the reason. Users can choose the font, font size and font color here and they can also use the Finger Notes pen tool to write something in their own handwriting. Keyboard Notes also allows users to change the background. There are five default backgrounds available here and they can also choose one from the Photo Album.
Touch Notes allows users to mark priority for the notes they make. These notes are easily movable. i.e Users can easily move the typed and written notes. There are options for mailing these notes and sharing them in Facebook and Twitter. To add notes to Audio Notes, just attach a microphone to the iPhone and tap the Rec button. I think Touch Notes is a suitable note making app for the iPhone. It is available for $0.99 at the App Store and it is compatible with iPhone, iPad and iPod Touch.
Rating : 4/5

rel="nofollow>