How many of us can say I know each and every features of iOS 4? Hardly a few in numbers. We use iPhone on daily basis which is powered by its beautiful iOS and whatever we are known about iOS 4 are just 30% of its features so the remaining 70% is left unknown. Unbelievable? Believe it. Tips for your phone is developed by Dot Com Infoway by keeping in mind of helping people to explore the hidden features of the iOS 4. If you are using an iPhone running iOS 4 this is for you.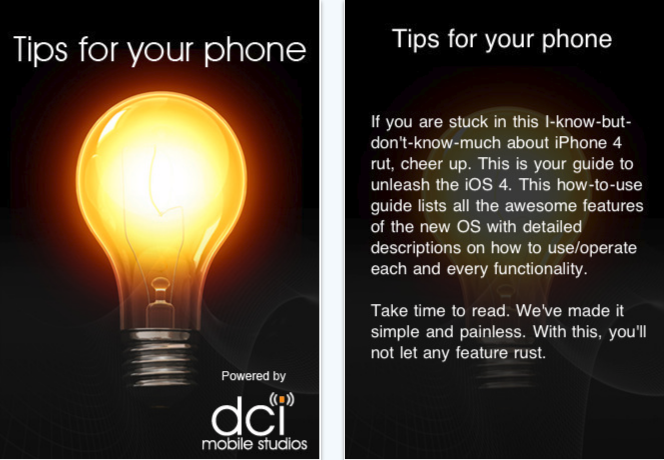 rel="nofollow>
Tips for your phone has a bunch of tips that are required to be used at your daily activities. The app is designed to teach you the hidden features of iOS 4 in an understandable way, which even a common man can grasp the idea. Most of the tips are represented with an image so following the steps is pretty easy.
All the tips are displayed horizontally at the homepage, so  you can easily select whichever tips with just a click of the button. The information on all the tips are clear enough to guide us to unlock the hidden feature that we are untold. Some of the tips in this app may look basic, but there are still some don't know those basic features with the iOS 4.
Overall, Tips for your phone is helpful and a handy tool for all iOS users. However in the same time the app needs to get updated for the iOS 4.2 tips that can benefit even more diversity of iOS users. Don't think much, just try out this free app on your iPhone and let us know your feedback through comments.
Cost: Free
Rating: 4.5/5

rel="nofollow>