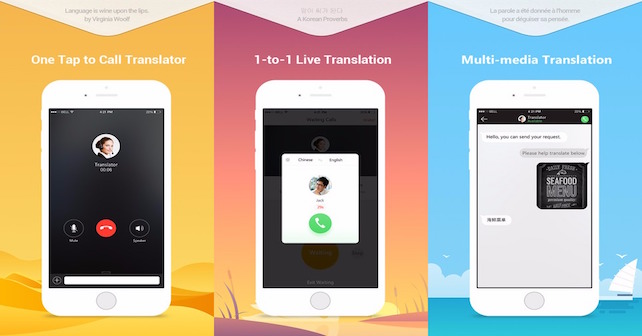 TAKEASY is basically an app that helps you overcome common language barriers every time you are in a foreign country where you can't understand majority of the spoken, everyday language. The same can be applied for translating, for instance, signs and maps. This is because, with this app, But first, let's tackle the main feature of TAKEASY.
If you thought that your translator would be a machine like ones found in most of the widely-used translation engines at present like Google Translate or iTranslate, then you are very much mistaken. In TAKEASY, you would be able to avail the service of an actual human translator or interpreter who would be able to give you more accurate and correct translations of any word, phrase or sentence that you are having difficulty with.
Choose from three types of translations: Conversation, Image, and Remote. In Conversation, you only need to tap the call icon that is directly below the translator's picture to begin a live translation of your chosen language (either in voice or text). Any question that you ask would be addressed and replied to in a few minutes and most assuredly in real-time. And, the mere fact that you can hear how each word is pronounced goes a long way in helping you talk to the locals more comfortably, minus the awkwardness.
As for Image translations, you can opt to upload photos to help you translate signs, map symbols, and other passages of text. Remote translation, on the other hand, is a more refined feature that allows you to talk directly with a professional translator. You can choose to favorite any translator who has left a good impression on you, so you can always easily avail of his service in the future. Users are even allowed to rate their respective translators or leave feedback about their experience as a whole.
As of this writing, the supported languages are limited to English, Simplified and Traditional Chinese, German, Japanese, French, Portuguese, Spanish, Korean, and Russian. Developers have promised to add more languages soon though, which is definitely something to look forward to in an app that is as useful as this.
There are apps that help you translate languages in real time; however, if TAKEASY is going to be compared to such apps, it certainly shines more with its live human translator. This feature is very much unprecedented, to say the least, and offers a powerful solution to the persistent problem that plagues most machine translators: inaccuracy. In fact, such kinds of translators can be so inaccurate to the point that they are rendered useless in no time. This is especially true if slang or complex words are used. With a live, trained human translator backing you up, this problem is virtually non-existent. And that's what makes this app a real gem. This is why if you find yourself in a verbal sandpit in one of your chosen travel destinations, let TAKEASY save you from all the trouble.
Price: Free