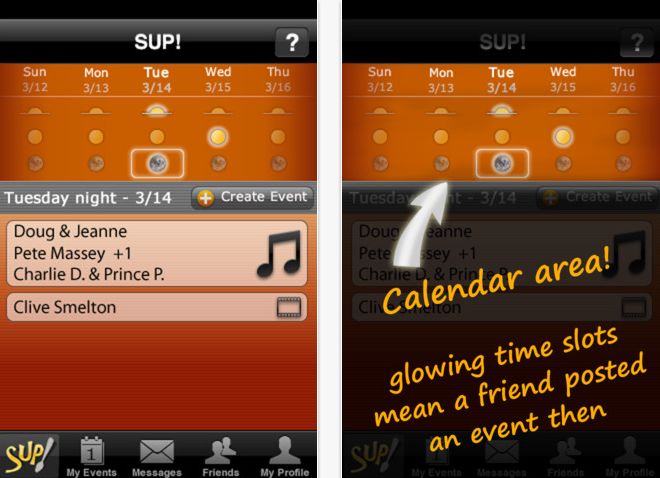 Arranging a party or a get-together is not an easy task, especially when you have busy guys as friends. However, now it has got easier with "SUP!" an iPhone app developed by GP Cubed LLC.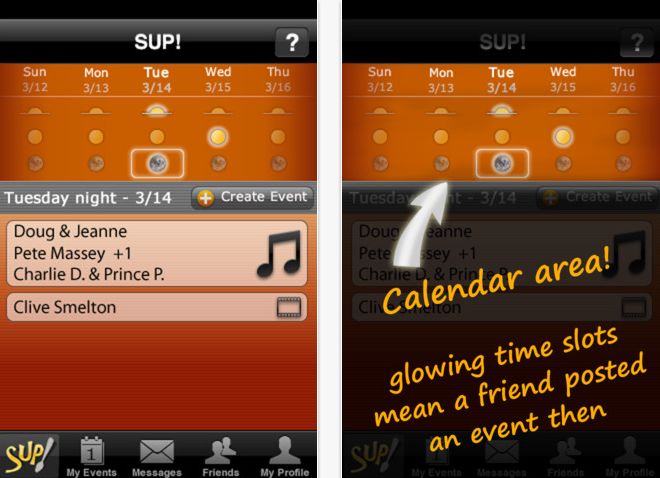 rel="nofollow>
SUP! helps users do this task easily. With this app in the iPhone, users can group chat with their pals and set time to arrive in a specific location for a lunch or a dinner. SUP! makes it easy to invite friends by chatting with them and it also lets users post events on the calendar which will be visible to all their friends, who have Sup! in their iPhone.
Users need to register before start using this app. Then, a calendar will appear where they need to select the time for an event. Different times of a day will be graphically represented there. The scheduled events can be made publicly visible or kept private. Users can also add things if they want. Sup! provides options to share your events in Facebook as well as through emails.
The event you are going to attend will shine in your calendar. If you want to know more, you can get it by touching that particular event. It is easy with Sup! to manage an event, even if you have a large group of friends. This app will keep you updated.
Though SUP! is really useful, there are a few things that I would like to mention. The UI can be even better. For a new user, it won't be an easy task to handle this app. The developers could have made it even simpler. However, it also has a help section, which explains everything about the app. Most apps in this genre have an option to get all the contacts from various sources like the iPhone contacts or the email.
SUP! has some unique features, which are great. Hence, I recommend this app to people with a large group of friends and also for those who have a big family. It is worth for what you pay.
Price: $0.99
Rating: 4.5/ 5

rel="nofollow>