Getting ready to go on a trip? For some people, packing and planning is half the fun; not for me. I have never liked doing it and felt it requires a lot of attention and effort. That's why I used to keep it for the last minute and almost always ended up missing out on something important. Phew!
A friend of mine told me about an app named Suitcases – packing list, which provides a checklist of items you need to take along for your trip. It keeps you informed of the most important things to pack in your bag, so that you can do your packing in a smart, efficient and organized manner.
Suitcases – packing list is an app that belongs to the Travel category in the App Store. It consists of suitcases that denote the list of items you may need to pack for your upcoming trip or vacation. Each suitcase consists of a packing list where you can check off items once you have packed them. You are also allowed to edit the items in the list and create a new suitcase, if required.
The app has three suitcases by default: Beach Trip, Business Trip and Summer Camp. Suitcases – packing list provides a complete list of all the things (more than 70 items) listed under 10 different categories, namely Clothes/Underwear, Footwear, Swimwear, Hygiene/Clean Up, First Aid Kit, Snacks/Drinks, Appliances, Documents, Miscellaneous and Before I Leave.
The app has a simple 2-list system: a white one denoting the items to be carried with you and a yellow one denoting the items left behind. You can add items to the white list and check them off once they are packed. The yellow list contains the list of all items that are left unchecked.
Suitcases – packing list lets you make your own suitcase. You can add or remove items from the yellow list, create reminders and store lists as well. With this app you can easily create, modify and check off packing lists. You have the convenience of moving items from the Take list to the Leave list and vice versa. All you have to do is swipe on any item on the white list to shift it to the yellow list, and tap on an item on the yellow list to move it to the white list. This helps you with last minute packing, depending on requirements and space availability.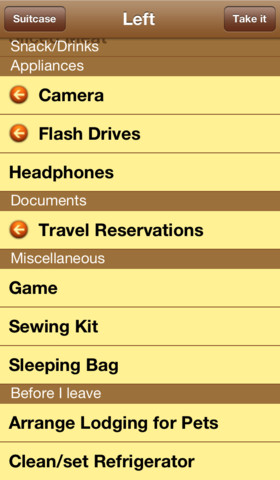 What I loved the most in the app is the Before I leave category that features a to-do list of things like 'Advise family of Itinerary', 'Unplug Major Appliances', 'Water Plants' and 3 others. These are vital things that all of us need to pay attention to before leaving on a trip, and this category is a thoughtful addition to the app. Suitcases – packing list supports English, Chinese, Finnish, German, Russian and Spanish. I wish the app had an option to set up reminders so that you can be notified when it is time to leave for the airport or pick up a friend.
This app makes sure you are ready for your holiday and helps you pay attention to details that you are otherwise likely to forget. It takes the stress out of packing and lets you keep your focus on the trip. With Suitcases – packing list you don't have to worry about missing out on essentials or overloading your bags with more than what you require.
Suitcases – packing list is an app that requires iOS 4.3 or later versions.
Price : $0.99
Rating : 4/5