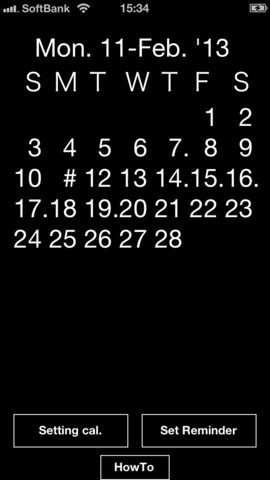 The native calendar in the iPhone is simple, functional and good enough for most of us. But if you need something more from your calendar, here is an iPhone app that lets you make alterations to the calendar and use the same as a reminder. STCalendar is an excellent app that lets you alter the provided calendar, as per your requirements.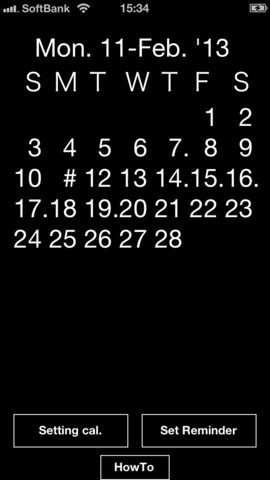 About the app:
STCalendar is an app that provides you with a text calendar. You can edit the calendar and use it as the reminder. The app reminds you about the task by displaying the calendar, everyday at a preset time. There are various options provided that give you the flexibility to edit your calendar in any way you want.
Working of the app:
There are two main options in the application – Setting Cal and Set Reminder, each with many sub-options. With the help of the 'Show Today' option you can select the format of the reminder. You can easily edit the header of the calendar with the help of the "Edit Header" option. The header can be set up in text or date format. Under the date category you have options like "Show Year", "Week Point", "Month Format" and "Date-Month". The text format allows you to give a name to your calendar. You can even select any character from the calendar and use it as the header format.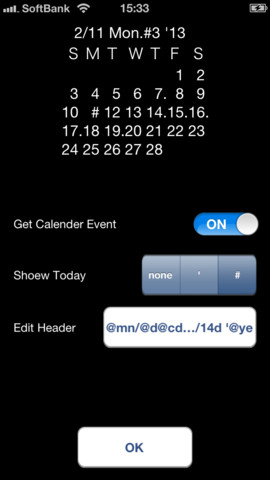 You can select the type of calendar that you want to set as the reminder using the Set Reminder option. There are two types of calendar, namely Header Only and Header+cal. The former displays the header alone as a reminder while the latter shows the header along with the calendar. You can easily select the fire time (the time at which you want the alarm to ring) from the 'Fire Date' option. It also allows you to specify the URL scheme to be added to the notification. The HowTo option included in the app provides all the required information in detail.
STCalendar is a handy app with plenty of features that allow you to make your reminders more attractive. Options that allow you to send text/e-mail from the app could have been added. Otherwise, it is a great app that provides timely reminders to make sure you don't forget appointments, birthdays, anniversaries and other important occasions.
STCalendar costs $0.99 and requires iOS 5.0 or later versions.
Price: $0.99
Rating: 3.5/5