There are hundreds of global languages, which restricts interactions with other nationalities. With many translation software available in the market, nothing really looks to be an effective translator. But that's not the case with SpeechTrans German to English translator an iPhone app, which offer a handy tool to translate English text to German. The app not only translates text, but it also has voice translation from English to German.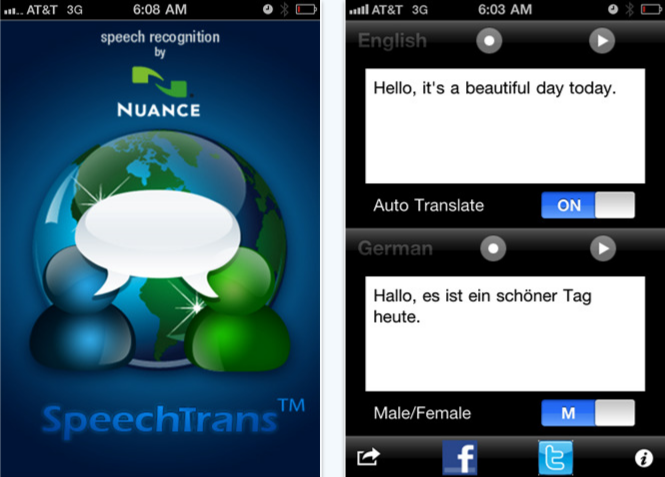 rel="nofollow>
The concept behind the app is to translate from English to German. Looks like a simple feature, but the app works really well to translate the text or voice from English to German. To try out how the translation work, I inputted some text to be translated to German. The result are not that impressive as I could hear some noise along with the voice, but its quite better than other translation softwares. Then while recording, your English should be clear to let the app capture your voice to translate. If you in a noisy background and trying to translate, the app gives a pretty normal output. Actually no apps can work perfect at noisy background.
There are some inbuilt features that are really impressive. "Email recording" and "Email translation" result helps you to email your recorded and text translation. The other two option are "View saved translations" and "Buy Translations". I haven't given a try for "Buy transcription" since it includes purchasing, but the "View saved translations" are handy to have a look at all our previous translations. Additionally you can post the translations on Facebook and Twitter.
Overall SpeechTrans is your pocked translator for English to German, which is really a necessity if you are in German or if you have a German girlfriend!(lol). Priced at $19.99, this really makes me think, however if you really need English to German translator, go get this for your iPhone.
Cost: $19.99
Rating: 4/5

rel="nofollow>