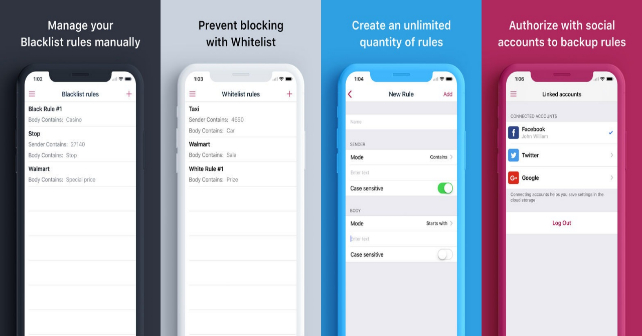 Everybody hates getting spam SMS and MMS messages, but it's ultimately something you can't avoid unless you take measures to stop getting these messages. There are a lot of various types of spam messages that are already being circulated in these platforms. From persistent marketers who want to make a quick buck to advertisers and even total strangers, spam is a monster that can rear its numerous ugly heads at you, distracting, flooding, and terrorizing your private space for as long as you don't have adequate protection from them.
With the help of SpamHound, though, you won't have to worry ever again about receiving these annoying messages, for like a loyal and fierce mutt at your side, the app will be able to keep them from getting into your personal territory. When it comes to blocking spam, it has a lot of arsenals at its disposal. It also offers you plenty of freedom to modify its blacklisting capabilities.
For one, you can set specific rules in blacklisting. You can do this by typing various keywords that are often found in a lot of spam messages (like special discount, price, etc.) These rules can be set to immediately look at portions of the message for the said keywords like Sender, Body, etc. You may easily set keyword rules for the Sender portion and choosing 'Contains'. There is even a nifty slider where you can set whether you want the rule to be case sensitive or not.
The app would then proceed to block only messages that contain those words after scanning the said portions of the message. In the same manner, you can also set rules for whitelisting so not all messages would be filtered from your inbox. This is crucial as a lot of spam blockers have this issue of labeling legit messages as false positives.
The app even allows you to double-check a rule you've made by using the Rule Checker. This way, you'll be able to test out how rules apply in blocking messages that you don't want to receive. You may set any number of filter you want, and these filters aren't limited to setting keyword conditions as well You may even set filters for expressions and wildcard syntax.
With the app's inclusion of the ability to set various specifications in blacklisting and whitelisting, SpamHound is able to set itself easily apart from other apps that help you block spam messages. It doesn't just mindlessly block all kinds of messages like other spam blockers out there. It has more depth, in short, and it's an aspect that is nothing short of necessary in these kinds of apps.
Price: $0.99