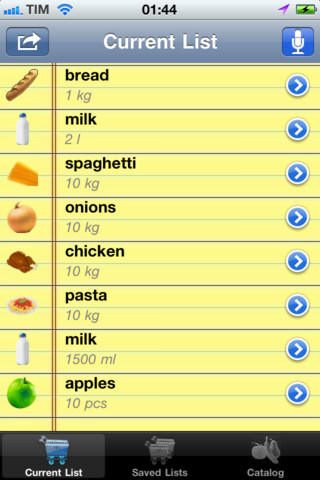 Preparing a shopping list by listing out each item and the required quantity can take up considerable time and effort, especially if you've got many things you need to buy. I was looking for a good iPhone app that simplifies the process of shopping list generation when I stumbled upon a new app named 'Voice Shopping List' that serves the purpose.
Voice Shopping List is an iPhone shopping list maker where you can input grocery items through your voice. It is an easy to use app that is powered by speech recognition software to recognize the words you speak.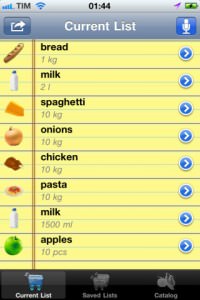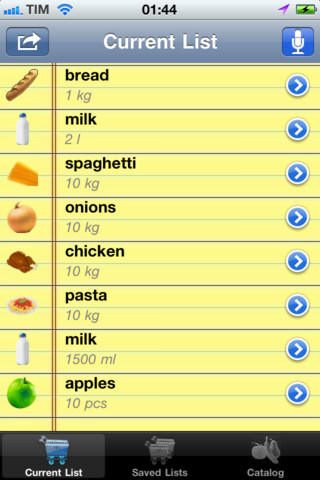 All you need to do is open the app and tap the record option (which is indicated by an icon) on the screen. Then you simply call out that item you want to add to your list. Say "Apricots" for example, and it displays that item in the current list. The app has got more than 250 stored items in its catalog. A special feature of the app is that it displays the names of the items along with their images.
You can also select items from the catalog section. Items are arranged in alphabetical order from A-Z with a '+' symbol. You can add new items by tapping the '+' option. It also allows you to quickly search through the items in the catalog using the search box.
The '+' button takes you to the quantity screen. The app provides you multiple metrics like pcs, gr, ml etc from which you can select the respective unit for each grocery item. Once you are done with it, the item is displayed on the current list along with the image and the required quantity. There is also a saved list option available in the app which you can use to save lists of items for your reference. You can also make the saved list as your current list.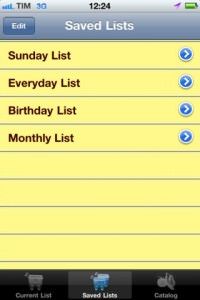 Apart from this, the app also offers some editing features to edit, save, clear and delete a list. It also allows you to share your list with others through email. You can mark the items you have purchased by striking them out. This can be done by tapping on the items.
Now you can make your weekly shopping lists by just recording the items as and when you think of them. What's best about the app is you do not need an Internet connection for voice recognition. The app is available in the iTunes store for just $0.99. It is compatible with iOS 4.0 or later versions.
Rating: 4/ 5