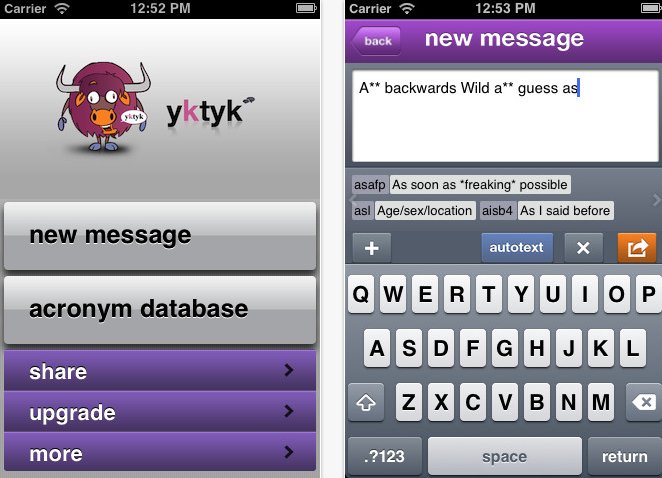 Do you find it difficult to interpret the messages sent to you as acronyms? Then YKTYK by chriskirbywrites, is the exact solution for you. Yes, this is an app that can understand and help you learn acronyms.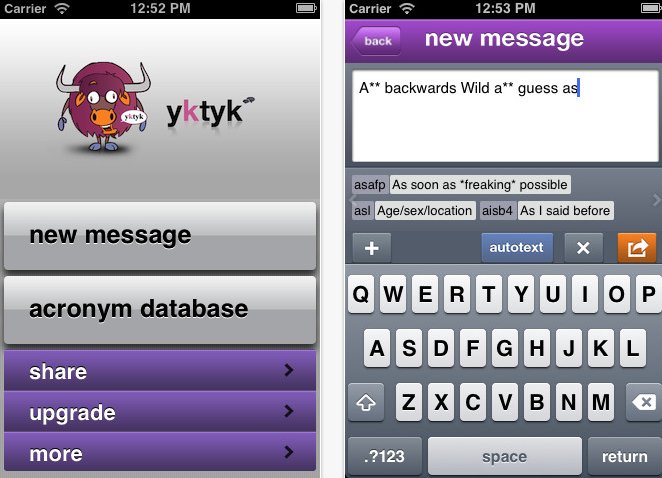 rel="nofollow>
YKTYK is an acronyms and abbreviations dictionary and predictive texting iPhone app. This app converts your words to acronyms and you can share them with your family and friends. This app can do these amazing things with a group of over 1800 acronyms. It can also predict a word as you are typing it.
After you have finished typing your message, you have three ways of sharing it. You can share it on Facebook,Twitter and you can also send it as an SMS from within the app itself. I have never seen any app with so many cool features. You can also learn new acronyms, which have been listed in alphabetical order, from the database.
You can also join the YKTYK club, which costs you $0.90 per month or $8.50 per yea,r to receive interesting stuff like jokes, quotes, comebacks, insults, cartoons and sayings, every fortnight.
The UI is simple and user friendly. It would have been great if the app had the option of sharing the acronyms in an email too.
This is the first app of its genre to have all these cool features. I recommend YKTYK to people who are into acronyms and abbreviations and those who would like to learn a new way to shorten texts.
Price: $0.99
Rating: 3.5/5

rel="nofollow>