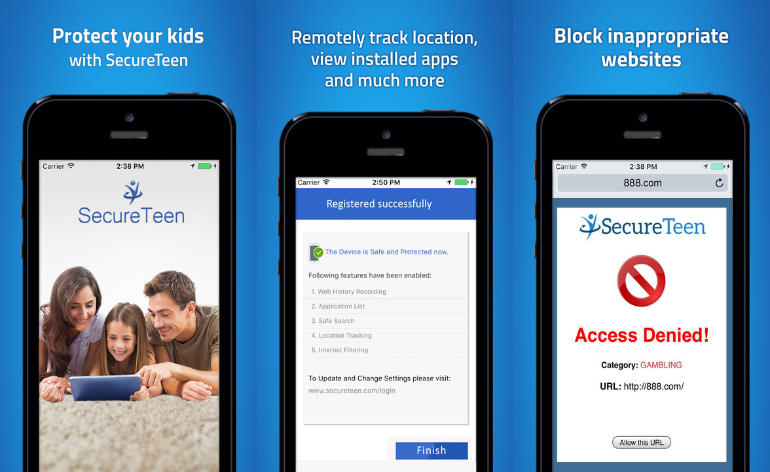 For many people, online content is an open book that practically anyone can read regardless of age. While this does have its advantages, as a parent, one can be extremely cautious of how children can easily gain access to content that is not exactly appropriate or safe for them. There is also the prevalence of various kinds of bullying, porn, and illegal activities online that do not really contribute to your child's welfare as a whole. It's for this reason why many parents are turning to apps that give them parental control over their kids' online activities.
SecureTeen is one of the many apps that serve such a purpose. It does this by allowing you to track your child's phone through this VPN-based app. The app makes use of a dedicated dashboard where you can connect to your kid's device and do all the parental control activities. But first, you have to register for an account, which you can use to operate SecureTeen either directly from its app interface or thru your default browser.
From the Dashboard, all of your child's online and smartphone activities can be tracked. Whether it's every website he has visited and the apps that he has used or the SMS and calls he has received, SecureTeen would be able to reveal it all to you. In fact, one truly stand-out aspect of SecureTeen is that its monitoring capabilities are complete, to say the least. Practically all aspect of your child's online activities can be tracked, even their social media interactions (on Facebook and Instagram) with the use of highly innovative features like the Timeline Scan and Friends Alert.
And if you're worried that your techy teen would be able to bypass the tracking of web browsing using Incognito mode, know that the app allows you to filter this browser capability. Additionally, as far as blocking is concerned, the app also allows you to block specific websites that contain inappropriate content. What's even better is that you can do these blocks based on factors such as keyword, category, and URL, to cite a few. This level of specificity makes it easy to filter websites that contain mature or inappropriate content.
Another aspect of the iOS version of SecureTeen that's worth highlighting is its time management feature. With it, you'll be able to have better control over the time that your kids spend on their gadgets, encouraging them to do other activities away from the digital world. Lastly, all of these activities can be done remotely, so your child won't feel like you're intruding too much into his digital space.
With SecureTeen, you can expect to have a more complete package of parental control options compared to others of its kind that are readily available at present. This is especially true if you avail of its Premium or Premium Plus version. In this day and age, children would always be able to have access to the Internet, one way or another. SecureTeen, it's safe to say, is one truly comprehensive parental control app that delivers what parents expect from it and more.
Price: Free