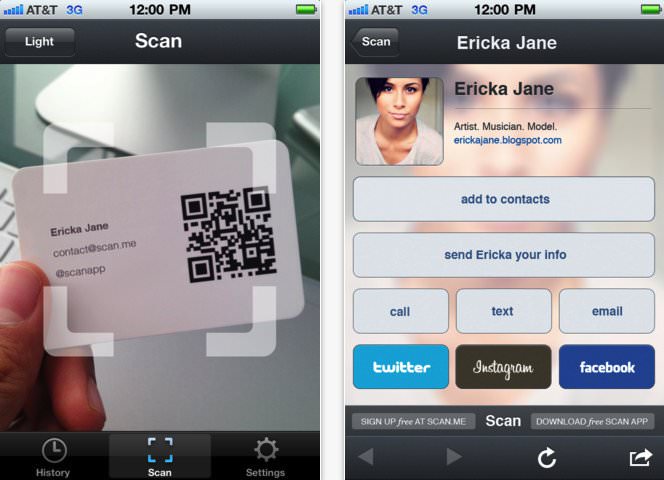 What Is Scan App ?

Scan app is a QR code as well as bar code scanner app, developed by QR Code City.
What Is Special About This Scan App ?
Scanner apps are mostly used to scan either QR code or bar codes, but Scan app is the only app that I have seen so far, that is used to both scan QR and bar codes.
With its website scan.me you can also generate QR codes and use them

You can generate a QR code for your URLs – and print anywhere, so that when some one scans it, it automatically takes them to the site.
You can also generate QR code for Plain text (mentioning your details) – And it stick it on your valuables possessions, suppose if some once scans it, say let it be a police officer, then you have more chances of getting it back.
Use QR codes to and scan to like on Facebook, scan to follow on Twitter and scan to check in on FourSquare etc.

Create a QR code with all your contact details and print it on your business card, so that once a person scans it he can get all the details and all he has to do is just tap on add to contacts, thats it.

You can advertise a product by just spreading the QR code, so that scanning the code will take the customers to the page where you have the details about the product or to download a software, thus you can use it to promote your business.
With its real time analytics available in its site you can track the usage of the QR code(s).

It just doesn't end there, it can also scan bar codes, just like a normal bar code scanner. Scan app can read UPC- Universal Product Code, EAN- European Article Number and ISBN-International Standard Book Number. To Scan bar codes, this app requires iPhone 3GS,4 and 4S, as their camera is better.
What is Great About Scan App ?
Scan app is really fast to process both QR and bar codes
The app is user friendly
As soon as the app starts running and you can focus on a QR or bar code thats it. It starts scanning it, you need not even press a single button
And its free, no in-app purchase.
The app stores the history of scanning with date, time and even locations. It also syncs it with your other iOS devices.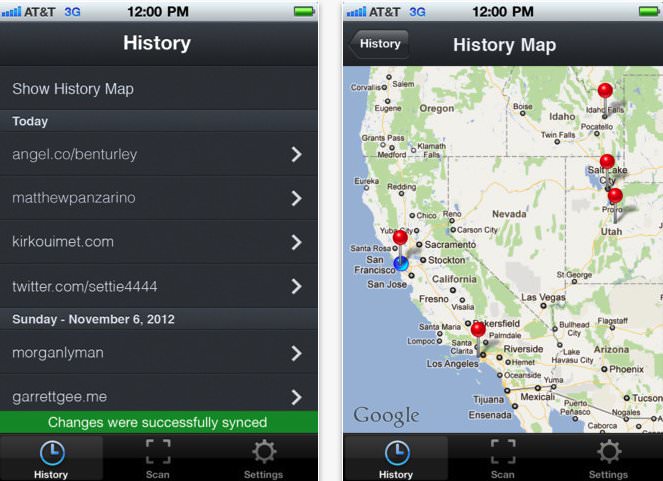 Where Do They Need To Improve ?
Currently everything is running well.
Final Verdict
I have never seen a scan app so efficient. One app that scans both QR and bar codes and with much more loaded features. I fell in love with this app the first time I used it, I am sure everyone who uses it will like it too.
Price: Free
Rating: 4.5/ 5