I always wonder why can't be an app to know whether the apartment or house are for rent at our neighborhood and even if there is, the localized search are worse. Well, thats not the case with RentCompass an iPhone app thats aims to bring localized search of rented houses and apartments in your area. The app list out all the rented information that are submitted through RentCompass rel="nofollow> website.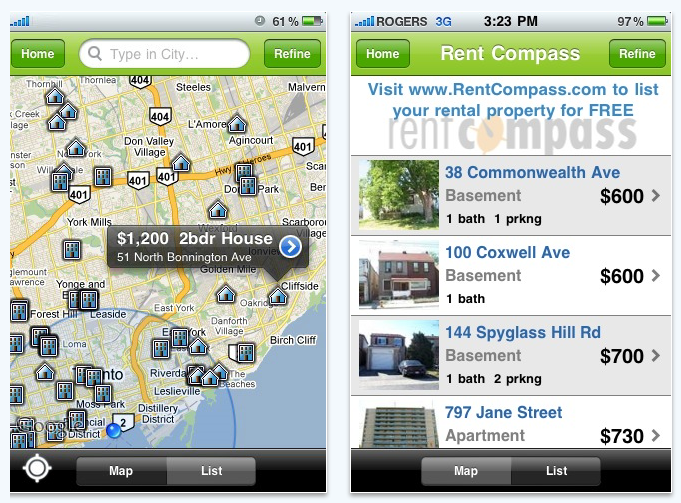 rel="nofollow>
Talking about its technical part the app uses Google maps and iPhone's GPS to effectively search for rental around our area and I think this is one of the coolest way to search for rentals around our locality without asking our neighbor. Since the app uses Google maps, its easy to find rentals and by selecting a particular location we get a separate information page, which is quite informative.
I never used to say wow, until or unless I found it better and when it comes to RentCompass I found the app very useful especially in getting detailed information about a particular place and additionally you can view snaps of the rented home or apartment either on landscape or portrait mode, it sounds like checked through photos on our camera roll. The filter search was another best thing  to talk about in this app, if you search for apartments by price, you get apartments listed under the price. Finally there another feature which appeals RentCompass an essential app for your iPhone and you know what is that? The ability to add rentals to your favorites and view all those favorites later even when there is no internet connection.
Everything is on the better side for RedCompass expect, the app is restricted to Canadians, so if you are out of Canada this app won't be useful for you and I believe they should extend their service to United States.
With RedCompass real estate agents and landlords can list their property for free by adding your list to www.redcompass.com. The app is compatible with iPhone, iPad and iPod Touch that runs on iOS 3.0 or later and it supports iOS 4 too.
Cost: Free
Rating: 4/5

rel="nofollow>