Want to know information about the particular place while seeing an image, Use Fotopedia National Parks to access or select from any marked location on a map of the world and access a database of over 20,000 users submitted photos from the around the world. You can also visit every single one of the 58 National Parks in the USA on your iPhone, iPod, and iPad using the Fotopedia National Parks. Scan over collections of photos in a much higher quality that you ever find.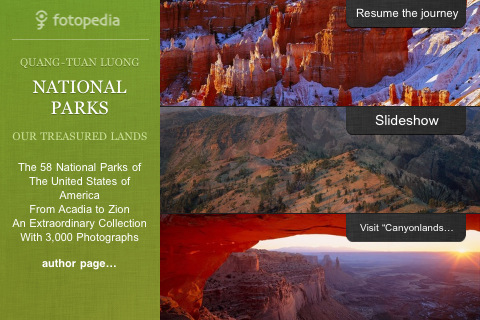 rel="nofollow>
Fotopedia enriches the community of photographers, natural lovers and photo enthusiast to share, collaborate the images to be useful for World Wide Web. Fotopedia strictly follows the guidelines for photographers to submit quality images to trust.
This app has got plenty pf cool features to explode, one among is the search and navigation across maps, tags and search boxes. Fotopedia National Park will help you to spot or educate the next vacation spot you are planning to.
Cost: $4.99

rel="nofollow>