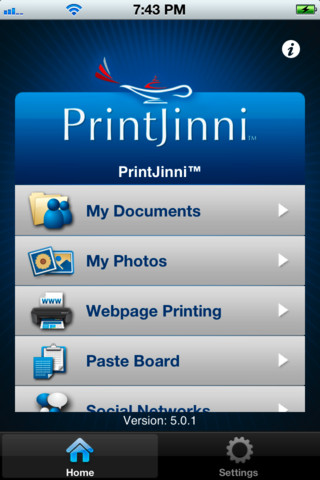 What Is The App All About ?
PrintJinni By Thinxtream Technologies is a utilities app, which enables you to print from your iPhone device to a Wi-Fi printer.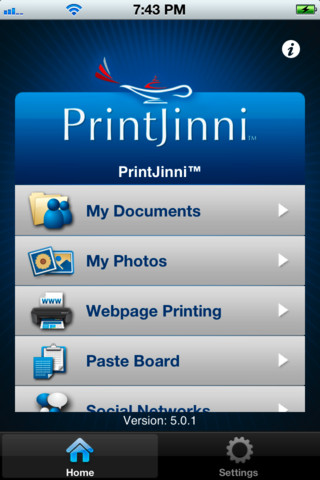 How Does It Work ?
Normally how would you take a print out of a book that you find when browse with your iPhone? You should connect it to a PC or Mac and transfer the file and then take the print out. But now this got a lot easier using PrintJinni.

With PrintJinni you can directly take print out from your iPhone with a Wi-Fi printer.

First you need to install and register your device by getting a PIN from Thinxstream and enter it, to use the app.

In the opening screen you have various options and a 'Home' and 'Settings' button below.

First is the 'My Documents' menu which will contain downloaded files which you can print.

Then comes the 'My Photos' using which you can select photos from the camera roll and select the printer and take print out.

Next is the 'Webpage Printing' in which you need to type in the URL of the webpage that you need to take a print out. After you type in the URL it downloads the files from that webpage and created a PDF file of that page and then you can take a print out.

Using 'Paste Board' in which you can paste a text or photo that you copied from anywhere from your iPhone and print.

After that is the 'Social Network' using which you can access the photos from your Facebook, Picasa and Flickr and print them.

Using 'Web Storage' you can print from iDisk, Dropbox and Box.net.

Finally comes the 'Buy Services' in which you can subscribe to their services, after your current current subscription is over.

By tapping the 'Setting' button in the bottom you will be taken to the settings menu. In which you will find 'Default Settings' in which you can adjust the 'Page Size', 'Color' and 'Print Mode'.

In the 'Manage Printers' section you have the options of finding the printers of both kind (PC & Mac)
What Is Cool About The App ?
The way it takes the print out of the web page by downloading it and making it into a PDF format and then printing it is really cool.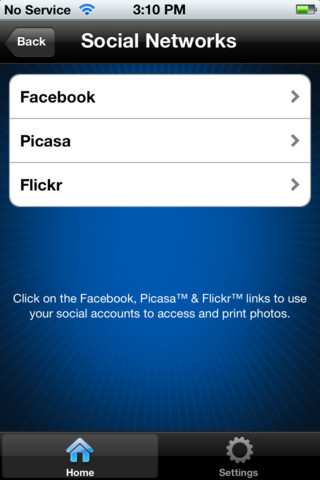 Where Should They Improve ?
It would be great, if its able to fetch the email attachments from the iPad's native mail app..

And instead of giving it as free app for 30 days and then making it paid. You can give it at a cost permanently.
Comment
No matter what, I really like this and I recommend this app to all who need to print.
Price: Free
Rating: 4/ 5