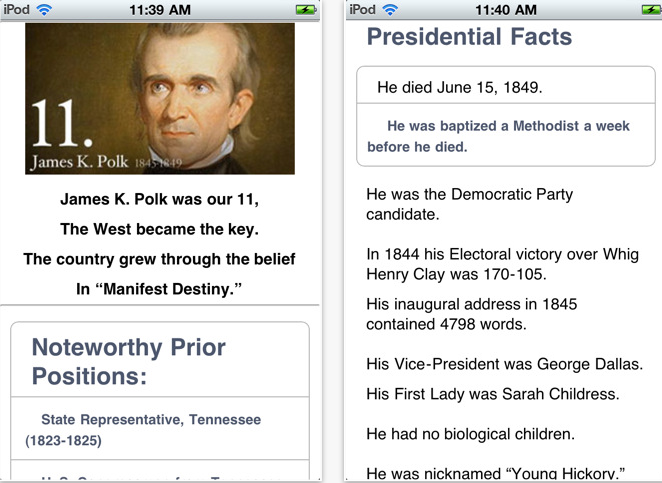 This is an app that all kids in school must have for easy reference no matter their age or place that they come from. Even children or adults who are interested in American history, like scholars or history students must take hold of the app. The app only means business without any fiddle faddle, no browsing through the net or looking through loads of irrelevant details . With 'Presidents By the Number' app you can have all the information that you need in a blink of an eye.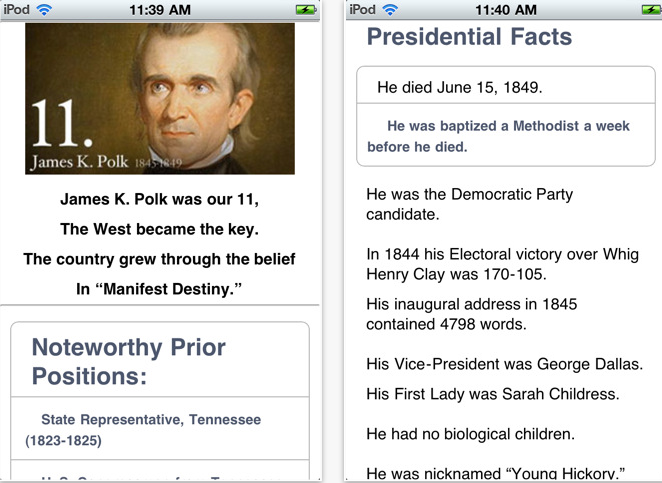 rel="nofollow>
The information received is the most detailed and well researched better than anything that can be found on the iPhone or the Internet. Take for example, What will your children say or infact what will you say if asked about Obama's presidency, and when he was questioned on his American citizenship and his right to hold office? Or what would you say when asked about details on John McCain, and what would have happened if he had been elected? would he have been the 3rd President to be a prisoner of war? Did you know that Chief Justice Earl Warren had been Tom Dewey's running mate in the election of 1948? These are but a few facts that were dug up, there's a lot more astonishing facts in our history that need to be unveiled.
Another charming part of this app is each and every President that ruled has had an important phase in their life and this has been very artistically presented in the form of nursery rhyme's, lullaby's, and rap songs that will interest children in their leaning.
The app contains 44 original Presidential poems and portraits, a huge list of every President and Vice-President, interesting facts on presidents election results, first ladies, nicknames, prior offices or positions held by them and more. The app also has quizzes that get updated on a monthly basis. And the developers have been so kind as to add a section entitled 'Presidential Odes' in reference to requests presented to them by their regular users.
The best part to note is that all these details can be viewed in the absence of a network connection, enabling easy access. The developers have also given us more reason to purchase the app with the introduction of America's Wars from the year 1788 to the Present. Now that's just wonderful. Hope you download the app and help impart national history to adults and children around you.
Price: $1.99
Rating: 4/5

rel="nofollow>