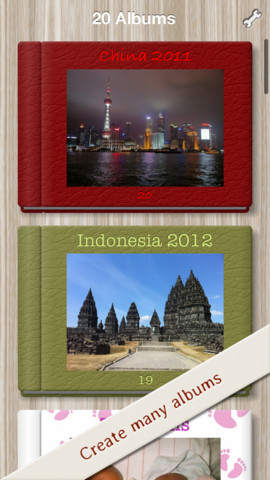 Photos remind us of some of the most memorable moments in our life. So it is important to keep them safe and organized to preserve them for posterity. There are various applications available to help you manage your photo albums by sorting them out category-wise. Wouldn't it be nice to have an app that helps you store all your precious travel pictures along with the locations where you took them? Swemos is one such app with which you can organize all your favorite photos into albums.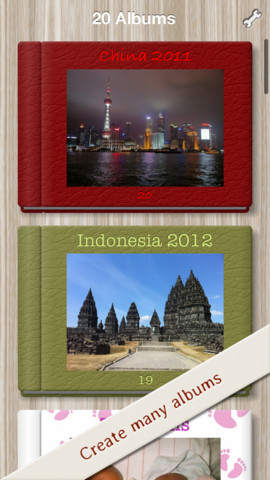 About the app:
Swemos is a photo journal app that helps you create albums and manage your photo collection easily. You can customize your albums with various covers and wall papers. The app has several options that allow you to organize all your travel photos in one place. Swemos belongs to the Photo & Video category in the App Store.
Working of the app:
Once you install the app in your device you can import any number of pictures and create albums. You are allowed to add captions to all photos in the album and give them catchy titles. You can make use of different fonts that are available in your iPhone or iPad while adding captions and titles. The time and location of the photos are automatically read while importing the images. You can view the pictures on a map along with the place and time they were taken. This helps you recall all those special moments and keep track of the places you have visited. You can change the location by just dragging the thumbnails on the map provided in each album.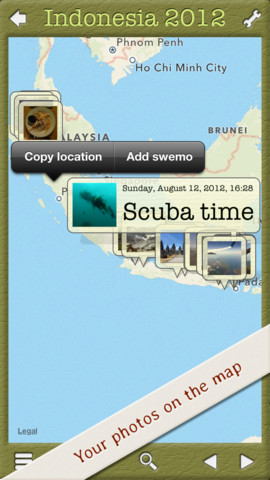 You can easily edit and rearrange the albums or the individual photos in an album by selecting and dragging the albums/images. One of the most unique features of the app is that you can design your albums in the way you want using the available covers. You are provided with 60 amazing covers and 30 stylish papers. Swemos lets you copy the albums from/to the iPhone/iPad with the help of iTunes. You can share your albums with your loved ones via email, Facebook, Twitter, texts and Bluetooth. Personally I felt that an option to add videos could have been included.
Swemos is an excellent app that lets you share priceless moments with friends and relatives. The app can be used for all special occasions like weddings, vacations or any other family event.
Swemos costs $1.99 and requires iOS 4.3 or later versions.
Price : $1.99
Rating : 4.5/5