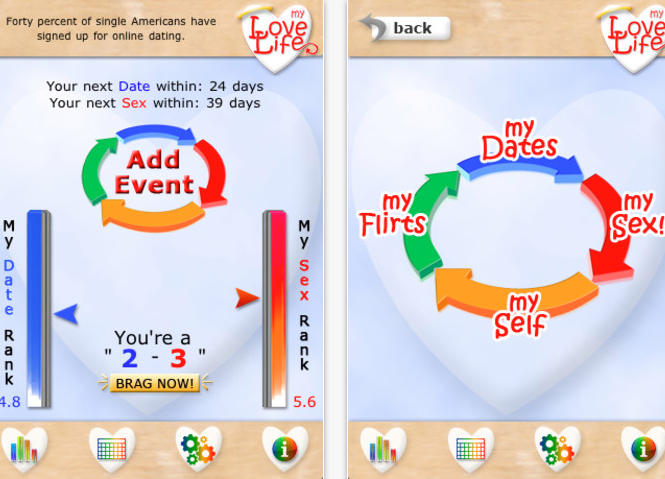 Everybody has their own love life. Have we ever thought of managing or keeping track of it in an organized manner? Well, most of us would say no. Now there is an app for that too. It is "My Love Life" developed by IAG Ideas.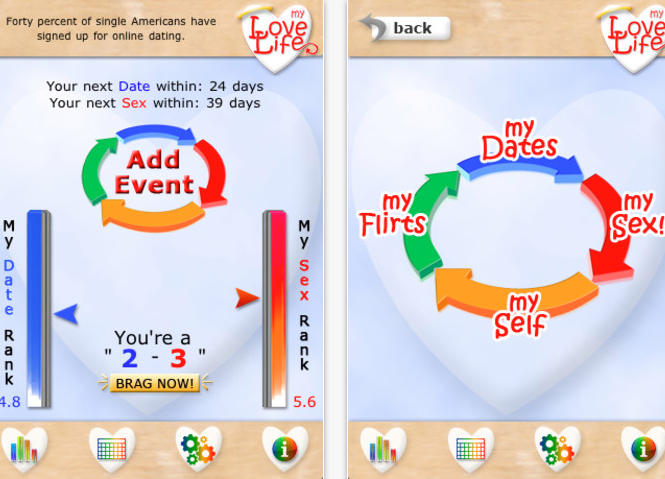 rel="nofollow>
Once you start using it, you won't ever be the same again. I think you might get hooked.:) Because this app is a powerful tool to organize and to keep track of all the activities of your "love life" such as dating, flirting and other details of intimacy.
Once a user enters all the required data, this app will start processing them and will show the advanced statistics with the help of various graphs. Therefore, you can travel back to those fanciful days, where the life is filled with imagination and dreams.
This app will rank you based on your dating & intimacy expertise and will let you compare it with other users – be sportive guys. There are options to share it on Facebook, Twitter and even through emails. If you add more events, your ranking will improve. My Love Life presents various options to archive all those dating experiences.
The UI is simple and easy to use and the predictions are really funny. It is well integrated with popular social medias such as Facebook and Twitter. There is also one interesting section on the top of the home screen to give you fun facts every day. All your data inside this app is password protected and you can also edit your love history if you want.
I would recommend this app to users who want to linger in the glorious days of the past. However, the developers could have reduced its price a bit.
Price: $2.99
Rating: 4.5/ 5

rel="nofollow>