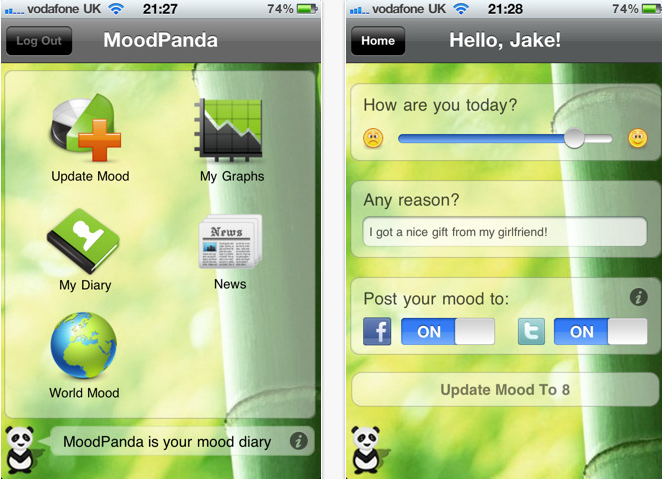 MoodPanda is an iPhone app that lists the things which make you happy and sad. You can record your mood whenever you want and from wherever you are. You can see graphs of your mood and compare the things that make you feel good with those that don't. From the app, you can directly share your mood with your friends on Twitter or Facebook.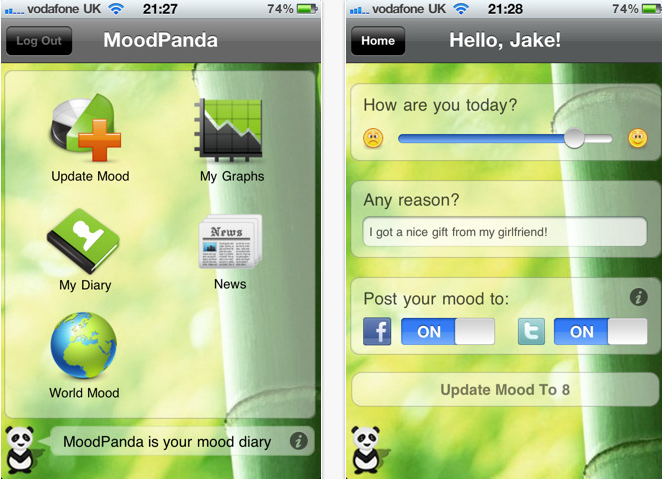 rel="nofollow>
The app provides you a mood diary where you can see how your mood changes from time to time and know what makes you the happiest and also the things that make you sad. You can even know others' moods and find out what makes them happy.
This app lets you know about your mood history for the day and for the month through graphs. You can even know other people's moods from the option 'World mood'. Using 'Update mood' you can set your current mood. 'My diary' will allow you to see the history of your changing moods.
As MoodPanda shows you the things that make you feel good, you can consciously work on those to keep yourself happy. I downloaded the app on my iPhone and got clear details about the things that make me happy and sad. And for today my status on MoodPanda is Very Happy.
So, how do you feel right now – Happy 🙂 or Sad 🙁 ? Quickly download MoodPanda and keep others updated of your moods.
Price: Free
Rating: 4/5

rel="nofollow>