MobileRSS Free is by far the best iPhone solution I have seen for Google Reader. This app is meant only for Google Reader and does not work or sync with any other RSS or news services. It seems like the developers took the best features of all the other RSS apps out there, added some kick ass ones of their own and packed them all in a clean, user-friendly and intuitive layout.
There is also a share feature that includes some of the more popular options like Email, Twitter, Facebook, ReadItLater, Instapaper and Delicious. Keep an eye out for this if you need sharing support for other platforms.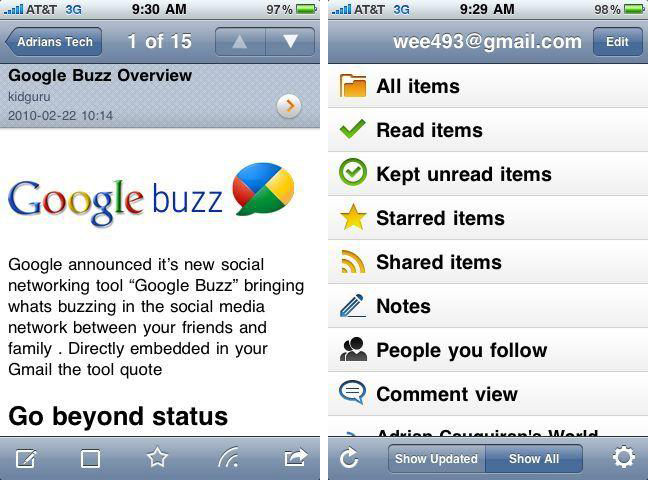 rel="nofollow>
Viewing feeds:
Feeds can be viewed individually or by folder, along with a host of options such as:
Feed name, post title, preview
Unread icon
Image icon
Show All, Show New
Sort by newest first, Sort by oldest first
Mark all as read
Feed details
I really like the way the feeds are displayed in this app. With the help of Google Mobilizer and ad removal, the sites are optimized for the iPhone's screen.
Other Features:
Google Mobilizer: Google Mobilizer makes any web page mobile friendly.
Instapaper: This app supports the Instapaper API for offline page reading.

ReadItLater: ReadItLater lets you save web pages to read later, even without Internet connection.
Cons:
In the LITE version of this app, you will not able to sign out from the Mobile RSS. This can lead to a privacy issue.
Developer: Niberu Tech Ltd rel="nofollow>
Rating: 3.5/5
Cost: Free
Download from iTunes rel="nofollow>