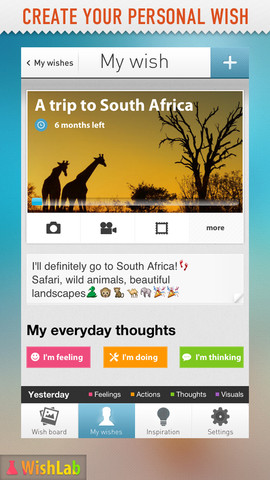 About The App
WishLab is Lifestyle app developed by BUMPERAPPS LTD. This app is used to visualize your dreams/thoughts and work towards it.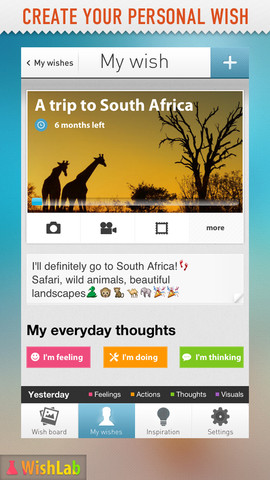 Features Of The App
In order to achieve your dreams, you need to think about it and work towards it within a specific time limit in order to achieve it. This is what WishLab exactly does. It breaks down your dreams into thoughts and thoughts into wishes. You need to name your wish and store a picture/video of it. It asks for your everyday feeling about your wish and what you are doing towards it and what you are thinking about it each day. It will also inspire you by showing how others are benefited by using it. You can share your wishes in Facebook and Twitter.
Inside The App
When you tap open the app you land on the wish board, where the wishes are listed. On the top of the page there are two buttons on the left there is the share it button on pressing it you can share your wish in Facebook and Twitter, and on the right there is wish edit button where you can select which wishes should be displayed in the wish board. The next tab is the My wishes tab, in this tab there are two sections- the 'Active wishes' and Achieved wishes' section. In the active wishes section the the wishes that are not yet achieved will be displayed, in the achieved wishes section you will have wishes that are achieved.
You can also add new wishes in this tab by pressing the '+' button in the top right of the My wishes tab. You need to give a name for the wish, there some default names listed there. Then you need to set the time limit within which you need to achieve it, then add a photo of it, and finally describe it. The next tab is the inspiration tab in which you will find the wish list of others who achieved it, so that you will get inspired by seeing them. The last tab is the settings tab, where you will have all the options like the notifications, mail notifications. Twitter and Facebook login. Share achieved wishes and Buy Wish Board Space + No Ads and Restore In-App Purchases.
Verdict
This app is necessary to all who want to get their wishes come true. The app's concept is unique, the UI is simple. I give 4.5 out of 5.
Price: Free
Rating: 4.5/ 5