About The App
Best Decision is a lifestyle app by LEAP Commerce, Inc. This app works by delivering search results from various e-commerce sites.
Features Of The App:
The Best Decision app is a shopping tool in which you can find items from 23 different e-commerce sites like Amazon, Walmart and BestBuy. So that there will be just one shopping cart which the developers call as 'Universal cart' into which you add items from different stores and there is only a single check out irrespective of the number of stores you have shopped. The single check out process which a complicated process is handled by the app with ease, like you are shopping in a single store..
Inside The App
When you tap open the app you will land on the home screen, where you will have three sections. The 'Browse' section, the 'Search' section and the 'Shopping Cart' and in the top right you have the 'My Profile' button. When you tap on Browse it will take you to browse section where you can see for different categories of items. In the top you have the Home button on the left and the Channels button on the right. When you tap on any on the items listed there you are taken to the details page where the details about the items are displayed. You also have the 'Add To Cart', 'Checkout','Want', 'Ask Friends' buttons below the item and its description. In the 'Ask Friends' option you can contact your friends via Email,SMS,Facebook or Twitter.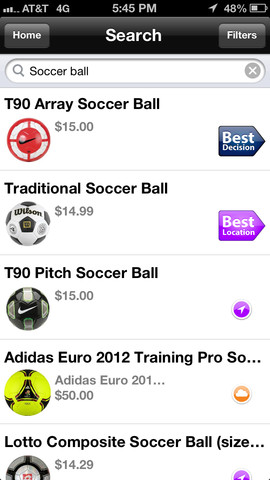 If you press the Channels button on the top right of the browse page you will find various channels like Deals,Media and other channels. Next we'll see about the search section. When you tap on search in the home screen, you will be taken to the search page. In the search page you can search items based on filters like price,location and best. The last one is the shopping cart, where you can edit the cart by deleting items in the cart or continue shopping or go to the home page or check the terms and conditions and checkout.
Verdict
The concept of the app is really new and unique. The interface is very simple, but sometimes the app takes some time to respond. So I give 4 out of 5.
Price: Free
Rating: 4/ 5