Want to monitor all your Gmail emails at one place, then here is Mailroom – a mail client iPhone app developed to keep track of your multiple Gmails accounts and the Google Apps emails under one roof. Opening the app for the first time will request you to add all your email accounts to list out all the email accounts on the homepage. You can add any number of Google mail accounts to this app and I tried with three of my Gmail accounts and another two of my Google Apps account.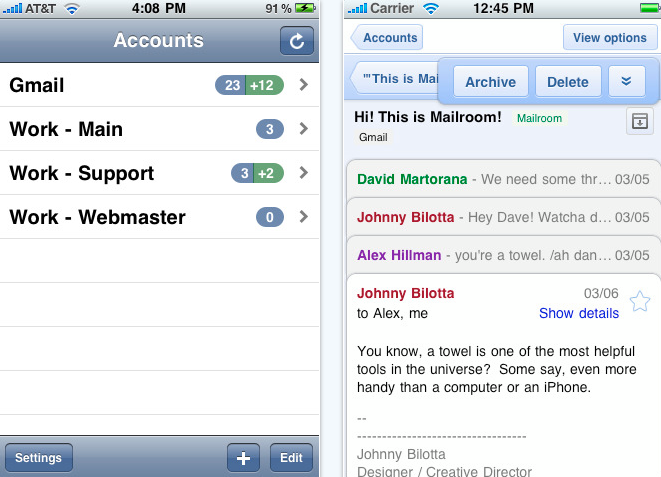 rel="nofollow>
Each of the mails has counters to display the number of read message (which is in blue) and unread messages (which is in green) at the homepage. Tapping on any email accounts takes you to the inner page, where you can read, write and send messages. The interface is almost same to the Gmail web interface. I want to point out the "View image", "View image inline" and "View original image" for emails that comes with an image. Using any of these three features you can have a look at the image by your proffered feature.
So finally, if you have many Gmail and Google Apps mail account and want to monitor all those on your iPhone, nothing is better than Mailroom to keep track of all your emails.
Cost: $2.99

rel="nofollow>