About The App
Cook Happy is a food and drink app developed by Demand Media, Inc. This app has  various video recipes.
Inside The App
Cook Happy is a video recipe app. On the main screen you can find the different kinds of recopies, categories. There are twenty three free recopies, and the others are available for in-app purchases for $0.99 each. You can slide through and see the different recipes photos. Once you select them you will be taken into the page to view the recipe videos. Once you tap on any of those video listed that page it will start playing the recipe video. In these video(s) there is no voice instructions given my great chefs. Instead it only has melodious background music.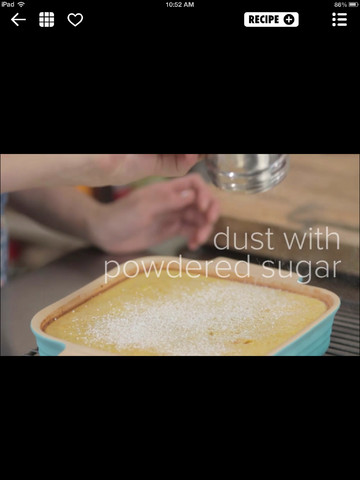 In the top of the screen there is a heart button by pressing it we can select that particular recipe as our favorite. By pressing the Recipe button you can view the recipe in text format, so that is easy to find the ingredients and cooking process. Next to the recipe button there the recipe list button on pressing this you will see the list of recipes in this category. And there are two buttons to come back to the recipes categories list. In the main screen you will find four buttons in the bottom. First is the Collections button by pressing this you will be taken to the home screen. Next comes the My Recipes button on pressing it you can view all the recipes you have in the app. Next is the Favorites button on pressing it you will find the list of recipes you have selected as your favorite by pressing the hear button. Last one is the settings button on pressing that you will get two options one is to contact cook happy another one is to restore purchases.
Verdict
The app has smooth and attractive interface, HD quality video recipes, you can view the time you need to prepare each recipes in the text format of the recipes. But it doesn't have social media sharing option. In spite of that I give it 4.7 out of 5.
Price: Free
Rating: 4.7/ 5