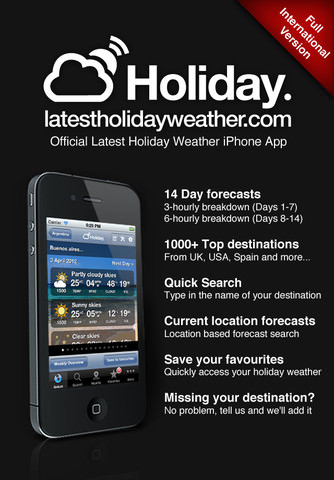 What Is The App All About ?
Latest Holiday Weather By ADIMIA Limited is a weather app for famous holiday spots.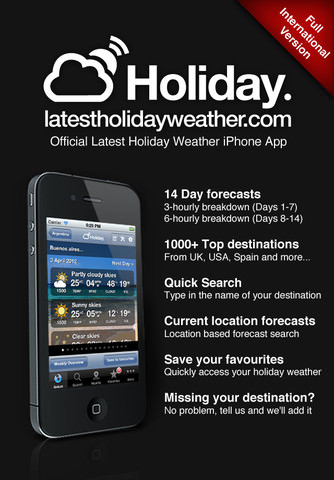 What Is Unique About The App ?
If you are planning a trip around the world then Latest Holiday Weather app comes in handy for you to know the weather of the place you want to visit in advance.

You have thousands of holiday destination in its database, and it is constantly updated. Popular holiday destinations from around the world like Turkey, Canary Island, USA, Spain, Majorca, Algarve, Tenerife, UK etc.

You get 14 day holiday weather forecast, which is split into two parts. For the first seven days there will be a 3 hours breakdown (ie 12 AM, 3 AM, 6 AM, 9 AM). For the second seven days there will be a 6 hours breakdown (ie 12 AM, 6 AM, 12 PM, 6 PM).

You can switch between international units.

Just type in the name of the destination where you want to check the weather and you will find it.

Find the weather of the holiday destination nearby you using the 'nearby' function, which uses your iPhone's GPS to locate it.
What Is So Cool About The App ?
Save your favorite destination in the favorite section.

If any of your favorite location is missing you can submit it to the developer and they will add it.

You can share it in Facebook and Twitter.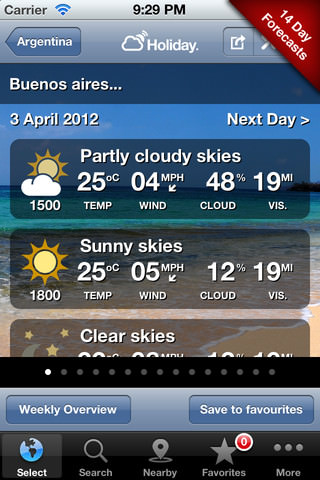 Where Should They Improve ?
Nothing as of now.
Comments
All tourists need this app.
Price: $0.99
Rating: 3.5/ 5