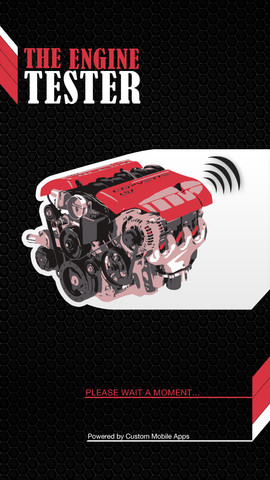 About The App
The Engine Tester is an utility app developed by Custom Mobile Apps Pty Ltd. This app is used to check the health of your car's engine, by analyzing the 10 second exhaust sound.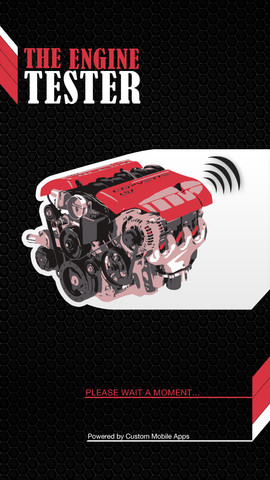 How The App Works
Once you open the app you land on the 'New Test' page where you need to enter all the details about the car that you are going to test. The details include, the make, the model, year of the make, number of cylinders, capacity,fuel type, turbo,supercharged and comments. After you have entered the relevant details, press the 'Next' button in the bottom of the page. Then you will be taken to the next page where you you will find the instructions about how to take the test with the app. And in the bottom of the page you will find the 'Run Test' button.
Once you press 'Run Test' the test will begin in 3 seconds and run for 10 seconds during that time you should hold the iPhone 30 cms horizontally close to the exhaust pipe. During that time the app will record and analyze the sound and find out the health of the car. After the test is over if it is positive you will get "This engine test was POSITIVE" or if it is negative you will get a negative message. These messages will be displayed in the 'Test Results' page along with the car details.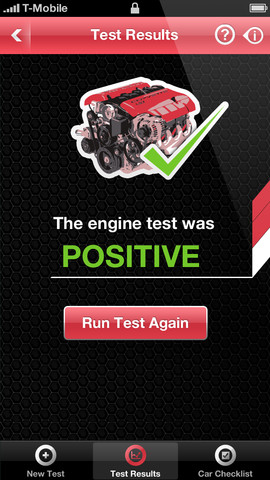 Adding to this there is also a 'Car Checklist' in which there are many items which needs to be checked to verified to checked for your car's health. These range from Logbook, All lights and indicators to Air Conditioning/ Heating and Tyres Tread deepness. When you tap on each and every item in the list you will get a pop up saying a tip on how to check that particular part in the car and then you need to check the box near to it. Likewise you need to complete the whole checklist in order to check the health of your car.
Having this app in your iPhone is like carrying an automobile expert with you in your pocket. I would give 4.5 out of 5 for this app.
Price: $2.99
Rating: 4.5/ 5