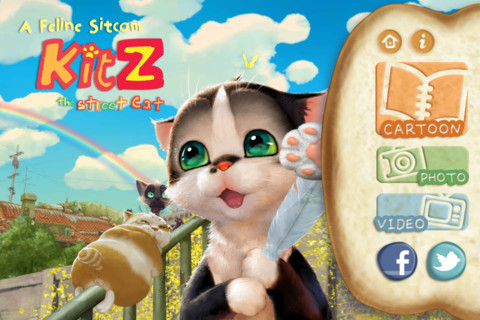 About The App
Kitz The Street Cat By Floating Island is Book app. It is a story about a cute little cat that wants to fly.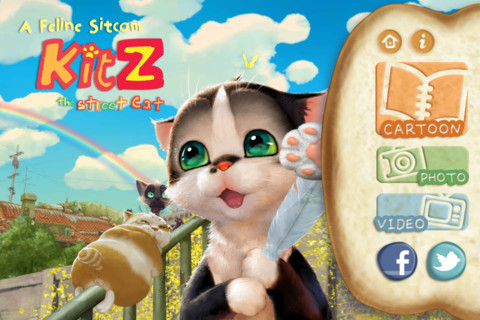 Inside The App
This animated comic book which is mainly based on Kitz a cute little cat that dreams about flying. This app contains cartoons and videos about Kitz and his roof mates. And photos of other cats. One day in Kitz dream he finds him, wandering in a forest. And suddenly he realizes that he is standing on a rope, which is shaking due to wind and suddenly breaks and he starts to fall. Suddenly someone catches him and starts flying.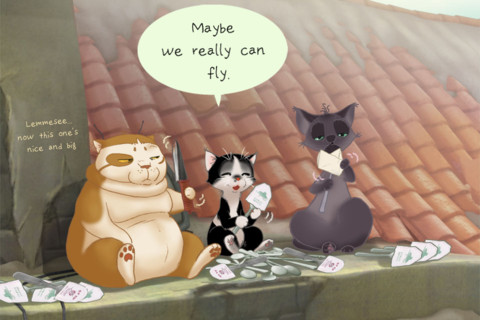 Then he sees him getting the wings of a butterfly. And he starts to fly using that, but only after he wakes up from his sleep. Even now he didn't realize that it was a dream and tells his roof mate Pepe about his flying experience. Once a bird drops on Tutti, another roof mate of Kitz. And Tutti gets very angry and shouts at the bird. This makes the bird angry and it picks up Tutti into the air. Now Kitz is amazed and he thinks that cats can also fly.
This comic books graphics and animation are wonderful, that unlike other static books its realistic All the cats' characters are sketched out very well. The background music is awesome. I have never seen such an comic book like this ever before. You can also connect to Twitter and Facebook. But the story line can be fine tuned, to make it look realistic. 
Verdict
Kitz will really keep your kids entertained in this holiday season. I give 4.5 out of 5.
Price: Free
Rating: 4.5/ 5