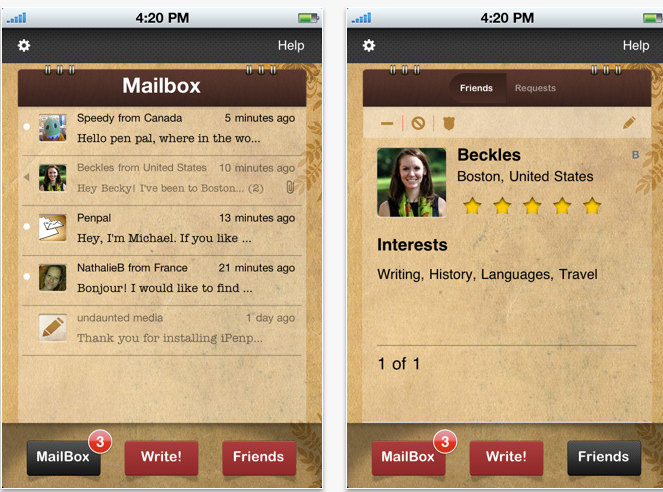 Being an  iPhone user just gets better everyday. This morning one of my friends introduced me to a new app that she ran into when she was browsing through the app store. Guess what? I have found a new way to make new friends, and now its not just in the neighborhood or just my college mates or my old school mates. My options have now broadened and I have a chance to make friends all over the world. Yes, I'm very, very happy. "Want to know why?", I've found a new app called iPenpal.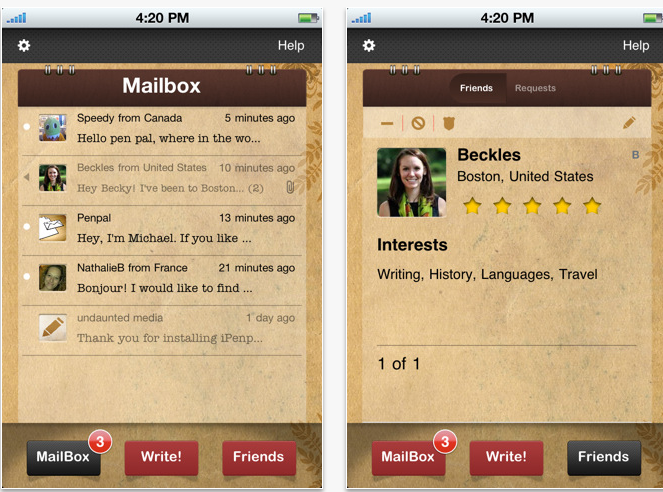 rel="nofollow>
This is one of the newest apps that the app developers have come out with and it helps me share views, get ideas and most of all make new friends in different parts of the world. The app helps me get acquainted with people, who share the same interest as I do in distant places around the world. I use this opportunity to get advise from people who are more experienced than I am, and at the same time learn from many and teach many more who ask me for advise. "Want to know how?".
Well I'm a person who loves gardening, and with the use of iPenpal app, I met another person from Canada who's also interested in the same. We first introduced ourselves and got to know each other, it was a nice to know someone from a place that I haven't seen before. Later as we got chatting, I told her that I was really worried about the roses that grew in my garden, they seemed to be withering away and there was nothing I could do about it. I had tried everything and nothing worked. Then with the advise gathered from my penpal , things got better.
Like I did, you could also use the App in any other way you choose to gather friends and share your interests, I use it mostly to share with people of my own interests. You can use it for your own, to find out about things like clothes, if you like to shop, about places, if you like traveling, share ideas about pets, or even ask your penpal on ideas how to plan your mum's birthday, if you have ran out of ideas. There's many things that a person could do. I also believe that if you find the right person, it may turn into a friendship that may last all through your life.
It's also actually very easy to use too, Once you have downloaded the app, you first get introduced to the iPenpal app with an introductory mail that welcomes you in. Then at the bottom of the page you'll be able to see three tabs that read, Mailbox, write and friends. You'll be able to view the welcome message in the mailbox just by a tap on the tab. You could tap on write and send a message, but it would rarely be answered if your going to do it in a random fashion. To make new friends and to make them fast, you first need to customize your profile so you could meet people of similar interests as yours. To customize your profile, send out a message to penpal, and your profile page would show up which has a section for your name, country, and city. You need not use your own name if you do not want to, you can always put in a nickname. There's also a section for a picture, which you could retrieve from your library.
Now the main thing that you need to concentrate on is your interests, put in the things that your interested in, into the given slots below, that will help you find friends with same interests as you. Soon you'll have a page that shows you a list of people with your interests, choose one of them and send out a message. Once you have a reply, it's up to you to decided if you want them on your friends list. If so, just add them on the tab that leads to the friends list and your set to go. Try it, it's a lot of fun. There are many interesting things that you can learn and share. Have fun making new friends.
Price: $0.99
Rating: 4/5
rel="nofollow>