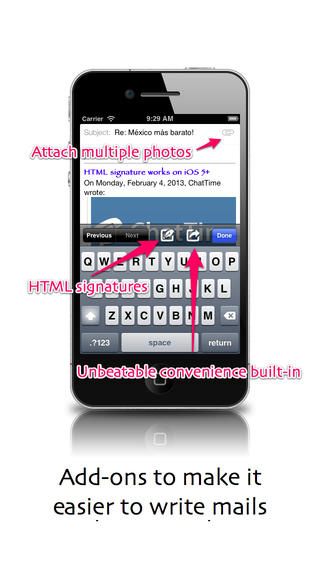 In the contemporary world, the communication technology continues to advance in every possible direction. The necessity of staying in touch is fueling these advancements, and every year, it seems as if completely new ways of getting connected are developed. But, as this trend continues, some older means of communication continue to be as relevant as ever. Email is one of these communication channels, and it does not matter which field of interest a person is involved, be it professional or private, the chances are that it includes sending and receiving email. In the surroundings of mobile devices, email found a very valuable platform, especially big services like Gmail. It is not necessary to find a computer to check an email inbox; instead, every hand held device which connects to the Internet offers this ability. A company called Idemfactor Solutions decided to bring email features to a significantly higher level with their application called iMailG.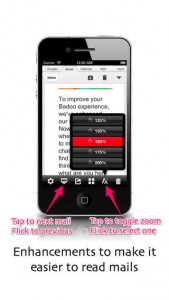 iMailG was produced for the devices made by the Apple company, which means that it works on the iPad, the iPod touch and the iPhone. The app can be downloaded on the iTunes market, and it needs iOS 6.0 or later versions, meaning it is well optimized even for some of the older mobile devices made produced by Apple.
 The main concept of the application is an enchantment of the use of email. It offers notification in real-time which includes badges, a preview option and even the ability of setting custom ringtones on different volume settings. The app can service multiple accounts and the switching proces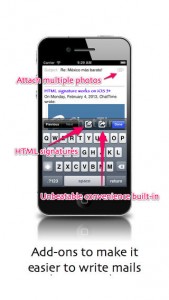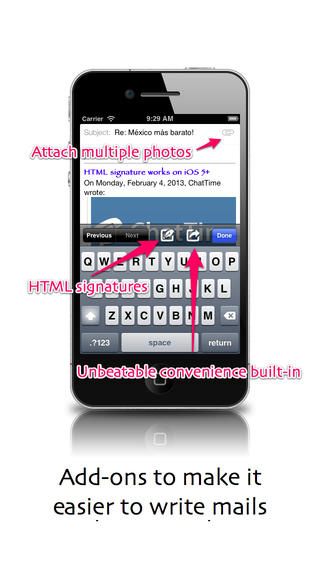 Users can add snippets or specialized signatures in HTML code to their emails, or they can add multiple photos. Unlike their competitor apps, iMailG functions with coherence when it comes to third party apps, which means that it can open files in Google Reader and other applications. This is a big advantage which competitor designer teams often neglect to include in similar apps.s is fast and easy. A full view of the application allows the users to change font size, while other visual features include the displaying the entire URL before the external links in the email are clicked on. This way, iMailG offers its users a very stable security option which can deter any phishing or hacking manipulation. The app opens links in Safari and Chrome made by Google, and allows for air-printing of web pages or attachments.
 Usability of the app is enhanced by a search option which can be used to find parts of the email, while passcode is used to further secure the user's privacy. Any additional settings can be imported or exported by the use of the clipboard, which also adds to its usability. At the same time, an elegant and very clean design means that using the app will not be a problem for any type of user.
 For a carefree way of using email on the iPhone or other Apple mobile device, iMailG is the ideal app.
Cost: Free
 Rate: 4.5/5