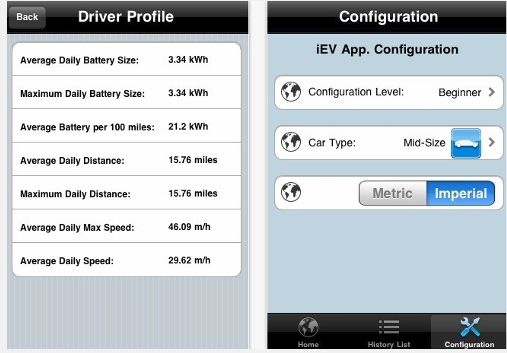 With the way things are going at the present, with the cost of fuel and its effects on the ozone, many of us would ultimately land up using things which are much within budget and are lot better better for the ozone. I'm sure you are wondering "what is he talking about?" Many of us would have heard of  electric cars, their benefits and the way they can help us and the world. Well most of us would like to own such a car, and many of us have got it on hold ,only  for one reason being that we are unaware of what kind of battery to use and how much power we would need to do our regular duties. The very fear that the car might stop in the middle of no where when we are in a hurry to go about things is one of the things holding many people back. Not to worry any more, who said you can't have every thing? Yes, now you can stop buying fuel and start using an electric car while making sure you have enough power to run through the day.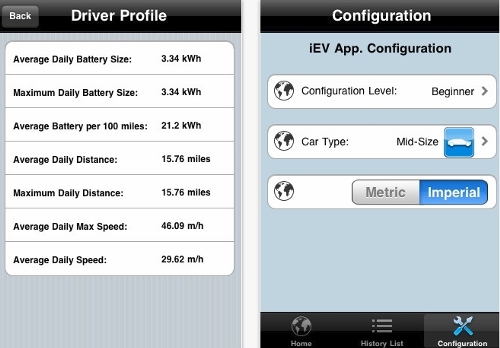 rel="nofollow>
How? You may ask.  iEV is a new app come into the picture which will help you choose the important things you need, to make your car the perfect electric car, making sure it takes into account the type of car you have and the length and duration you drive. Using iEv is very easy, first you download the app. After you get it done you need to input the details about the car you currently use most of them would be on certain sections on your car or in your users manual. After inputting as much information about your vehicle as possible, you need to take your car out for a drive following the regular pattern that you normally do on a daily basis, make sure you keep the iEV running during your drive. With GPS and the car information you have already inputted, iEV will help you find the right battery size for your car and the exact amount of energy you'll need for a complete trip. You can do this at least twice or thrice to make sure you've got the right value you require.
Guess we'll all have to continue doing this till charging stations become as popular as gas stations, this makes it even more important to make sure you go out there and buy the right battery. From this you see that buying a battery isn't as easy as our daily shopping routines and a rule for one is not a rule for all, you cannot go out and buy the same battery that "Bob" has just because you own the same kind of car , there are things involved that's much more than that.  Downloading this app and using it isn't a huge deal its only about $3.99 and the procedure involved is very simple. The app is also updated regularly so you wont have problems.
Need to know how the iEV app works?
The app has a way to calculate the factors required to turn your car into a apt electric car,  it makes use of a unique, scientifically approved algorithm for this purpose helping you to make the right choice.
Just one go at it using the iEV is more than enough, but if you'd like to be very specific with your calculations there are also facilities to make multiple configurations too.
It also helps you to learn the the right battery capacity, helps you to select the right battery as buying a battery is very expensive much more than the app which makes it even more important to make the right choice. So take the opportunity to use the app and make your dream of driving a well equipped electric car come true.
Note: The app is not built to run indoors , the app gets into action when outside in a moving vehicle, you may find it searching for a  signal when turned on indoors. Do not keep the GPS running  all the time as it may reduce your battery life.
Cost: $3.99
Rating: 4/ 5

rel="nofollow>