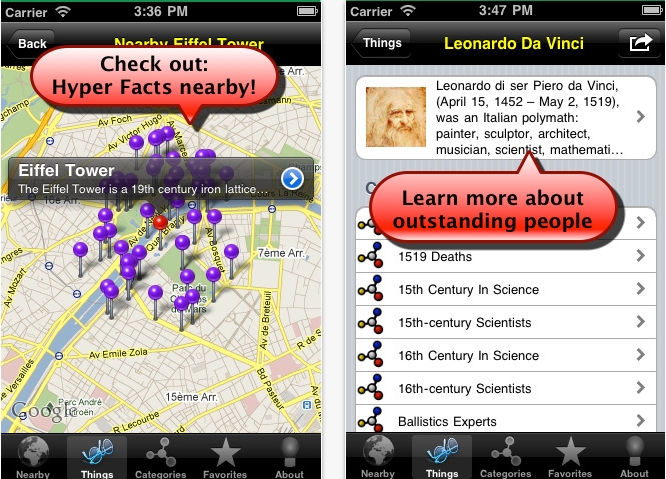 Internet and online information banks like Wikipedia help us get any information we want. But even now, getting information on the go with iPhone is not an easy thing. You have to open your browser and search engines to visit relevant pages even for getting some petty information. I think, Hyper Facts can reduce this burden.
Hyper Facts is an interesting app for iPhone. It gets Google, Google Maps, Wikipedia and some other resources all-in-one. Hyper Facts would be a handy tool for kids, travelers and information maniacs like me, as I always have my doubts and use to spend some time with search engines and Wikipedia daily.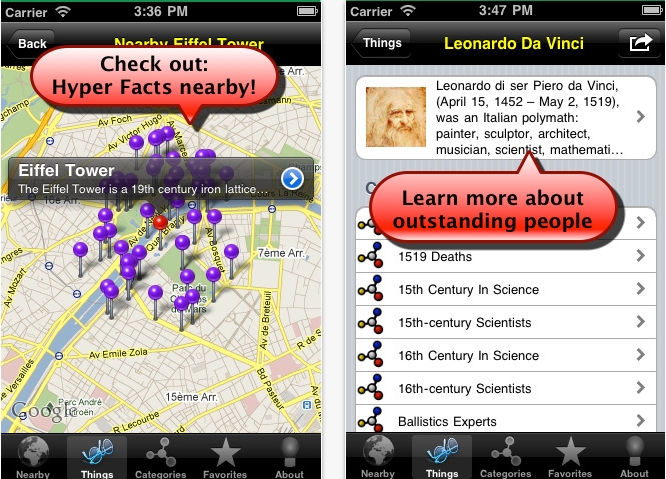 rel="nofollow>
Let us see how this app works. It has four sections – Things, Near By, Category and favorites. Among them I think, "Thing" is impressive. Just to check Hyper Facts, I typed California. It listed some twenty five links with relevant facts, right from the state California and Gulf Of California to Mr. Bungle's Album California. Users can narrow their search by Person, Location, Event or Work if they want. When I tapped California state, Hyper Facts gave all relevant facts like area rank, area code, density rank and demonym with a short information about the state. It also got me the Wikipedia's California page.
If you are not sure about the search term, Categories section can help you. NearBy section is powered with Google Maps and you can add articles and categories to the Favorites section. Developers claim that this app can search through 9 million unique facts and 40 million relations. That is really an awesome bundle of information. I tried with "Alfred Smith" and it listed a cricketer and an English recipient of Victoria Cross. I am not that popular in blogging I think.
Size of Hyper Facts is just 4.4 MB. So it is really easy to download, install and run this app. Get Hyper Facts now, if you need a mobile library in your iPhone.
Price: $0.99
Rating: 4.5/ 5

rel="nofollow>