There are quite a few apps that has the "WOW" factor in it and HTML Writer is a one such kind of apps. HTML Writer is a HTML editor cum writer app with separate tools for tag, attributes and snippets to easily type and edit HTML on the move. As a developer I love to edit the web pages from my mobile, but sadly there wasn't much good apps for the developers and designers. So to me HTML Writer was helpful to manage some of my works. Even though it offer only HTML writing, I think its quite sufficient to have it on phone.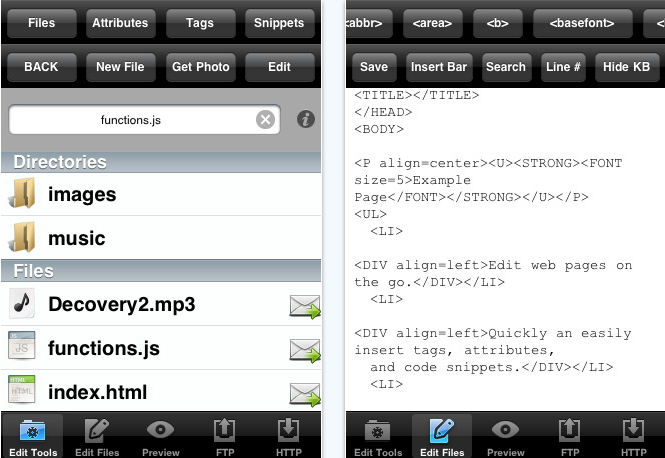 rel="nofollow>
HTML Writer has tons of features for a web developer. Let me start from the main options. HTML Writer has five main options such as Edit Tools, Edit Files, Preview, FTP and HTTP.
Edit Tools – This option shows the files that can be edited and you can also create new blank HTML to start off with.
Edit Files – Here is where we edit the HTML files with tags, snippets and attributes to create an HTML page.
Preview – To preview your HTML code on a web page view.
FTP – This was my favorite option in HTML Writer to upload and download files from the FTP. So with this webmaster can upload an edited HTML page to the web server without the need of a computer.
HTTP – HTTP option adds the ability to open a web page and save the it as .html format. This saved HTML file can be used to edit or upload the file on to your server.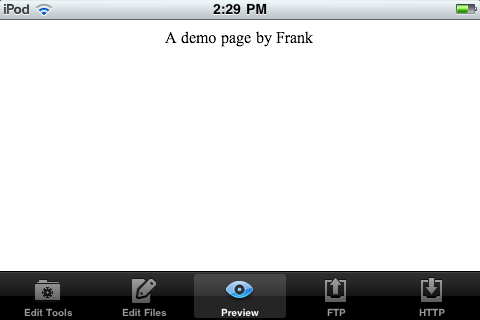 rel="nofollow>
The navigation bar is well placed with essential functions such as Save, Insert, Search, Line# (line search) and Hide keyboard. Each of these functions has its own importance while writing a HTML code. If you aren't comfortable with portrait mode, you can switch to landscape by tilting the device. Overall HTML Writer is definitely a handy tool for web designer and web developers to edit and write new HTML codes from their iPhone, iPad and iPod Touch. This is not just a basic HTML app, its more than that.
Cost: $2.99
Rating: 4.5/5

rel="nofollow>