For more than a month rel="nofollow> we have been waiting for Google Voice app and it finally arrived on the store last week. Google Voice lets you to make free calls and texting withing the United States. US users are the one getting the maximum benefits out of their Google Voice account. The voice clarity is good and I haven't experienced any issues while making voice calls.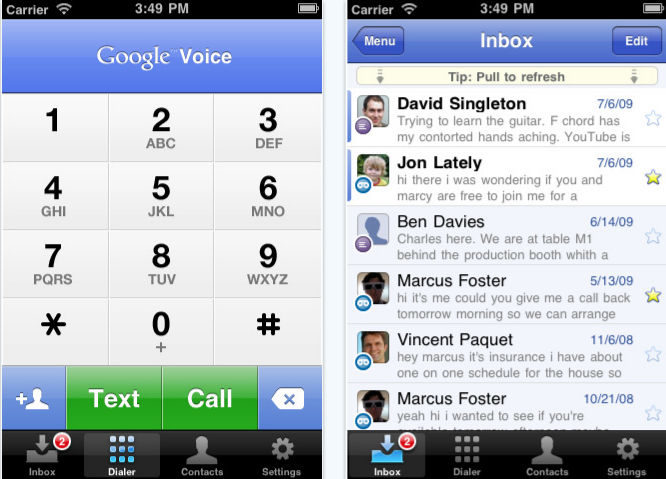 rel="nofollow>
The Google Voice 'Inbox' works similar to the Gmail, where in you can have a look at text messages, voice messages under one place. By default sending SMS and calls within Google Voice users of United States is free, so making an international calls using this app does comes with a price. The calling rates for International users can be found out from Google Voice website.
How does Google Voice works?
When you make a call using your account Google masks your mobile numbers and displays your Google voice number to the receiver. By this way the working of Google Voice on mobile is much similar to the system used on computers. The method of making free calls from mobile to mobile has raised lots of questions among cellular network operators, but this eventually faded off.
To some extent the app functions are limited and mostly you are required to login in to your Google voice account for major changes. Making calls and SMS are quite easy using the Google Voice iPhone app except the difficulty in adding contacts to the app. So if you want to add a number to your contact list, type the number and hit call. Now go to history and from there add the number to the Google Voice contacts. Overall Google Voice is the best way to make free calls from your iPhone.
Cost: Free
Rating: 4/5

rel="nofollow>