It is not easy to find your way, when you are in the middle of a concrete jungle. It demands some "extra senses". Now there is a smart solution to this problem – Gogo Navigator USA & CAN.
I began using it, just to review this app and now it has become my regular guide. Let me explain you the reason. Gogo Navigator is not just another GPS tool. It is an ultimate guide to lead your way in any city. This app stores the map data inside the device and works without Internet connection. I think, this is really an impressive feature for a GPS navigator, isn't it?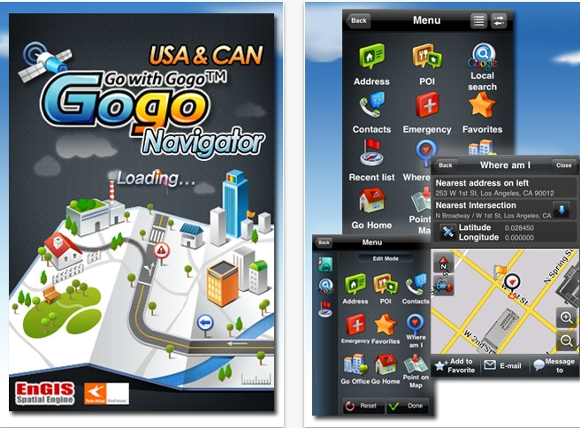 rel="nofollow>
You can find the route to a Point of Interest (POI) just by giving the address. It has Google to facilitate your local search, Recent List to give details about recently searched addresses and recently visited destinations. You can also manually set your own route by My Route option. There is an "Emergency" facility, which is important for a GPS app according to me. It finds you the route for the nearest police station, hospital, service station, bank, ATM etc.,
Gogo Navigator calculates your fuel cost, gives you the route summary and warns you when you cross the speed. You can also rearrange the Gogo menu according to your wish.It also names the streets, important shops and other buildings, while you navigate.  Apart from these things, one can sense the hard work of the designers by the 3D graphics it has. That is really amazing. To be frank one can't speak about all its features in a single review.
If you live in America or Canada, it is a must have app for your iPhone. This app is available in English, Spanish and French languages. It costs $29.99 and I think it is worth more.
Rating: 4/ 5

rel="nofollow>